There are so many benefits to getting laser eye surgery. It's an investment well worth the time, money, and energy you save not having to maintain prescription eyeglasses or contacts. Many people who seek laser eye surgery from an experienced LASIK surgeon in Orange County such as Doctor Moosa say that it is life-changing.
The process is described as quick, painless, and effective with one of the highest satisfaction rates for an elective surgery. The laser technology at a LASIK Orange County clinic, Excel Laser Vision Institute, is optimized to serve a variety of eye conditions with safe, targeted precision. However, it is a well-known fact that not anyone can just walk into a LASIK Orange County clinic such as Excel Laser Vision Institute and get the procedure without an extensive evaluation.
In order to qualify for the procedure, patients are given an eye examination and consultation where a LASIK surgeon in Orange County can determine multiple factors relating to their eye condition and general health. For certain patients with preexisting health conditions, even non-optical ones, LASIK may not be a viable option. However, it is always important to consult a LASIK specialist before ruling out the possibility. For example, diabetes is quite a common preexisting condition that many people have who seek LASIK surgery.
Diabetes is one of the most common health conditions affecting Americans today. In a 2015 study, there were around 30.3 million people with diabetes in the United States. In light of this statistic, it makes sense that a good portion of LASIK candidates would also have diabetes. Fortunately, this health condition is not an automatic disqualifier. Some patients with diabetes are still able to receive laser eye surgery from an experienced LASIK surgeon in Orange County, Doctor Ferzaad Moosa.
Diabetes and Our Eyes
Diabetes is a disease related to metabolic systems that causes a person's blood sugar to rise. When someone has diabetes, they lack enough insulin to transport glucose (sugar) into various cells from the bloodstream. Thus, the sugar accumulates in their bloodstream, which can lead to damage to vital organs. People who are not able to regulate their insulin levels can suffer from nerve damage, kidney disease, heart attack, stroke, vision impairment, and blindness. Technically, there is no cure for this disease. However, people can learn to manage it with an active, healthy lifestyle.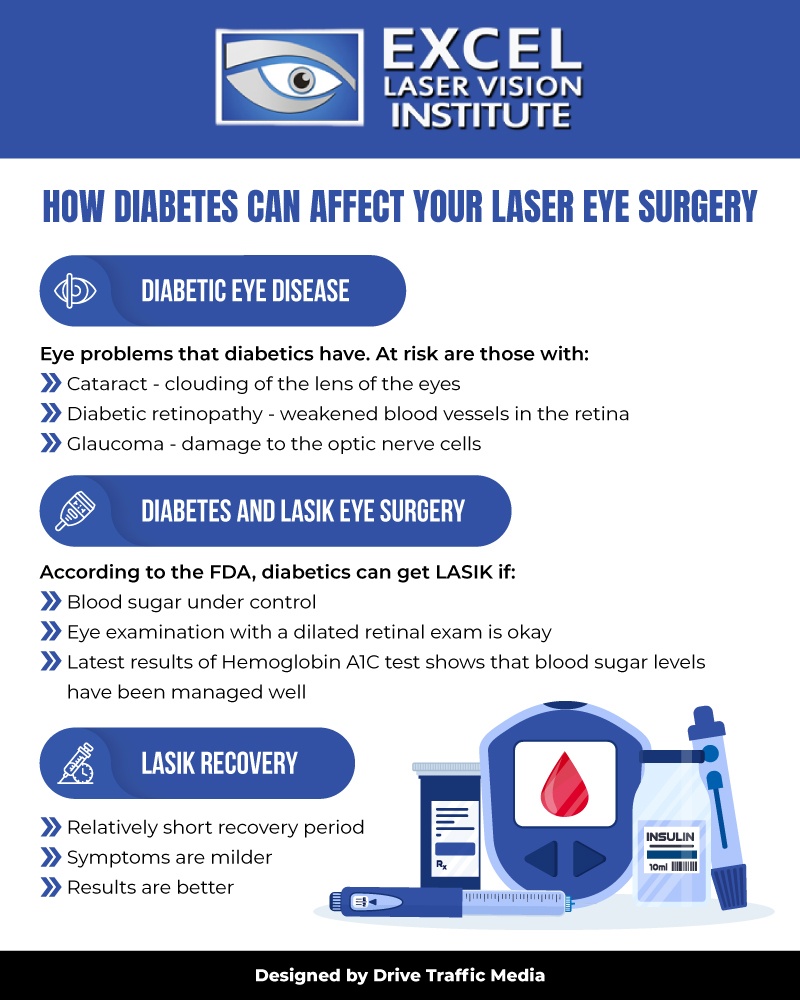 Now, that you know a little more about diabetes, you can see how it affects elective procedures like LASIK. Eye-related complications can be quite common with diabetes, which is why it is important for a LASIK specialist to evaluate a patient thoroughly before they are qualified to receive the surgery. Here are some of the eye conditions that can arise from diabetes:
Diabetic retinopathy: With diabetes, patients are more at risk for weakened blood vessels in their retina. This can cause tissue swelling, bleeding, and vision impairment. Continuous inflammation and ischemia can lead to permanent damage to the retina and blindness.
Cataracts: Since diabetic patients have trouble regulating their blood sugar, they are at risk for developing cataracts at a younger age. Cataracts refer to the clouding of the crystalline lens. If left untreated, they can severely impact one's vision and prescription stability.
Glaucoma: This condition has to do with damage to the optic nerve cells, which affects one's vision. These damages can lead to permanent vision impairment or blindness if not detected early on.
Diabetes and LASIK Eye Surgery
According to the FDA, diabetic patients who seek LASIK may qualify for the procedure under certain favorable conditions. With patients who have their blood sugar under control, elective surgeries like laser eye surgery are far more viable. So, it all depends on the case and the result of a LASIK doctor's evaluation.
When being considered for LASIK eye surgery, an eye doctor will ask you about your diabetes history. They will also give you a thorough eye examination with a dilated retinal exam to ensure that you are safe from any diabetic-related conditions. Through this evaluation, they will also measure your level of prescription just as they would with any potential LASIK candidate. Lastly, a LASIK specialist will ask for the latest results of your Hemoglobin A1C test to see if your blood sugar levels have been managed well in the last few months. As long as your form of diabetes is within an acceptable range of stability, you will be able to move on to the next step of your LASIK process.
LASIK Recovery
Many people are aware that diabetic patients often take longer to heal after surgeries and have a higher risk of complications. Fortunately, eye surgeries have not been indicated in this risk, and LASIK technology has greatly improved over the years.
LASIK is known for having an especially short recovery period, which is beneficial to diabetic patients who are considering refractive eye surgery. A LASIK specialist will likely recommend a LASIK procedure over alternatives like PRK, which might involve more time for healing.
In general, LASIK technology has evolved to be more precise and comfortable for patients of all health backgrounds. This means that recovery is easier, symptoms are milder, and results are even better.
After receiving LASIK eye surgery, diabetic patients will still require regular eye examinations and doctor's visits in order to monitor vision progress and maintain optimal health conditions. With the help of trained professionals, patients will get to enjoy their new vision while still managing their diabetic condition.
Related Posts