While many people have heard of LASIK and cataract surgery, there seems to be a general confusion about whether or not these two procedures can work together to achieve vision goals. Some of the confusion stems from the fact that many Los Angeles clinics offer both cataract surgery and LASIK. Many eye care patients find themselves asking how these two methods of vision correction are different from one another and if they can be utilized in tandem for certain individuals. Fortunately, the answers are rather straightforward and simply require the expertise of an eye care professional.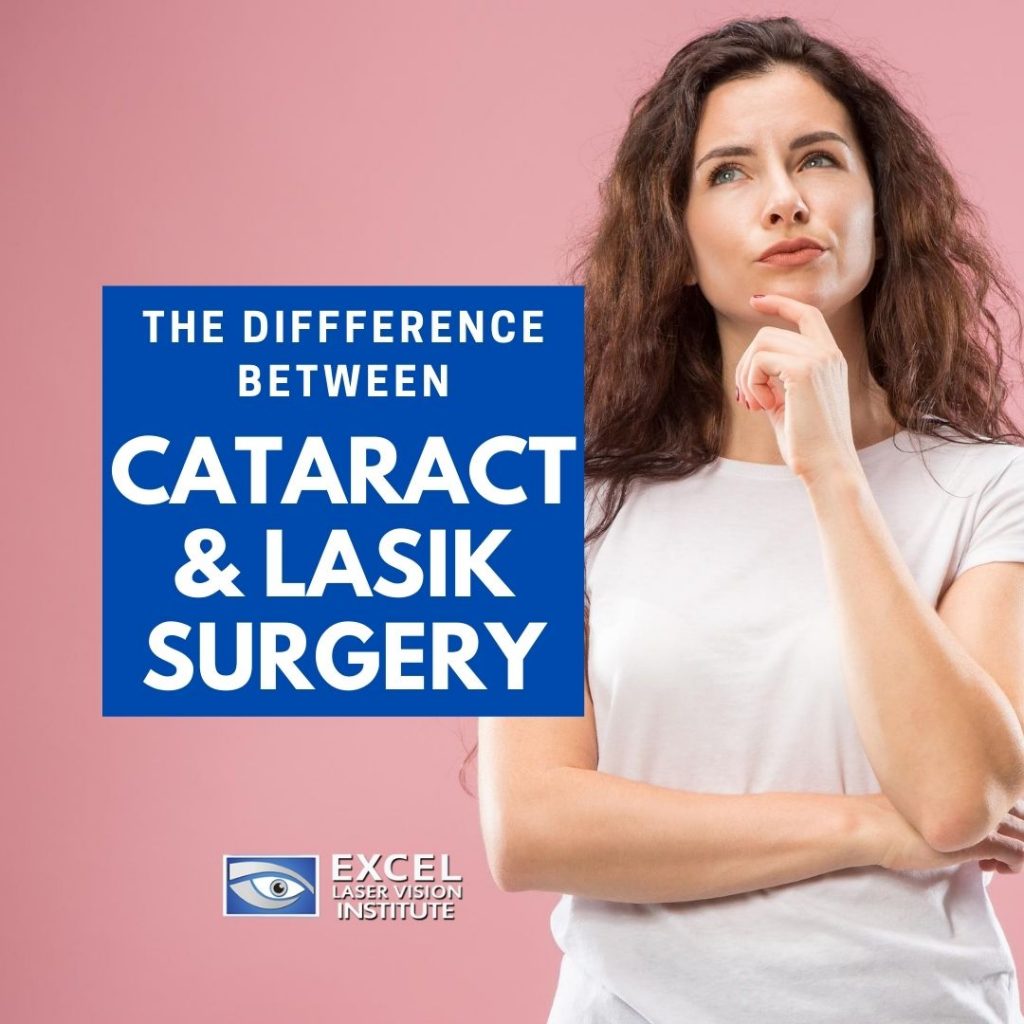 How is cataract surgery different from LASIK?
LASIK eye surgery involves the reshaping of an individual's cornea to help refocus light properly, thus correcting a previous refractive error. Cataract surgery, on the other hand, is a treatment that involves the replacement of an individual's natural lens, which has become clouded with cataracts, with an artificial lens (IOL or intraocular lens).
Each surgery is performed within a different timeframe. LASIK is usually a bit quicker and both eyes can be completed in the same surgery. Cataract surgery usually requires a separate day for each eye. Another difference between the two procedures is that cataract surgery can be covered by insurance (unless choosing premium add-ons) while LASIK offers a flexible savings account (FSA) but no insurance coverage.
How is cataract surgery similar to LASIK?
In the most basic sense, both LASIK and cataract surgery are a form of corrective eye surgery that require laser technology. Cataract surgery utilizes the femtosecond laser to extract the natural lens of the eye and bladeless LASIK utilizes the femtosecond laser for the creation of the corneal flap.
Each procedure seeks to improve a patient's vision and offers a very quick recovery time. Patients who receive LASIK or cataract surgery at a Los Angeles clinic such as Excel Laser Vision Institute are typically given local anesthesia and both surgeries can be performed while patients are awake.
Can you get cataract surgery and LASIK surgery on the same eye?
The short answer is yes. Both procedures focus on different areas of the eye (the cornea for LASIK and the lens for cataract surgery) which is why this combination would not likely pose any interference. However, this answer may differ depending on a person's specific eye condition and the recommendations of their surgeon. The best way to find out if you're eligible for cataract surgery after receiving LASIK (or vice versa) would be to ask an eye specialist at a laser vision correction clinic in Los Angeles like Excel Laser Vision Institute.
Can cataract surgery and LASIK be used in tandem?
The answer to this is sometimes. In circumstances where an individual's natural lens is replaced, but their visual acuity is still not at the right level, a surgeon may recommend a version of LASIK for a full correction. Usually, instead of using traditional LASIK methods, an eye specialist will perform an alternative refractive surgery called PRK.
Final Thoughts
Cataract surgery and LASIK are both vision correction methods that offer incredible benefits to certain individuals. If you would like to see if you're eligible for either of these procedures, then you can visit the Excel Laser Vision Insitute for a full eye exam and consultation with a laser eye specialist.
Related Posts