Wearing contacts is a responsibility. Like glasses, they can be expensive to obtain. Then, you have to make sure that they don't get lost or damaged, are regularly cleaned, and are taken out when you go to sleep. Contacts are not for low-maintenance people. In fact, the inconvenience of contact lenses is what pushes many people to look into LASIK eye surgery. LASIK experts like Doctor Moosa say that wearing contacts actually increases your risk of developing harmful eye conditions, especially when forgetting to take them out at night. Below, we will delve into the science of sleeping with contacts and some helpful tips for those who are using these corrective lenses for the time being.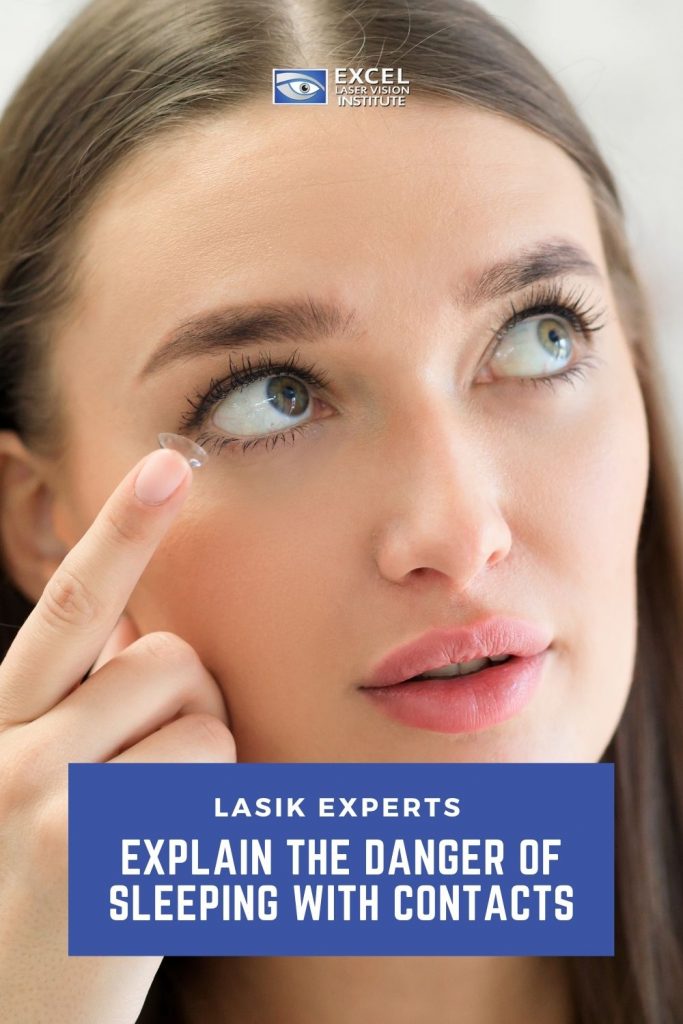 Oxygen Restriction
Our eyes, like other parts of our body, require oxygen to function. When they are open, they can receive a necessary supply from the air around us. However, contact lenses can block this process from happening. This means that contact users have a greater chance of developing inflammation, redness, irritation, fungal infections, bacterial infections, and corneal ulcers. This risk increases when contact users go to sleep without giving their eyes a break. Closed eyes will already receive less oxygen and, coupled with the barrier of contacts, this can cause serious issues and may even lead to impaired vision.
Pink Eye
Dr. Moosa, a Harvard-trained surgeon at a LASIK eye center in Los Angeles, Excel Laser Vision Institute, says that pink eye is a common problem amongst contact users. Anyone who falls asleep with their contacts on has a chance of developing conjunctivitis or another type of eye infection. Why is this? Studies have shown that our corneas are more susceptible to microscopic tears when wearing contacts for an extended period with our eyes closed. These mini tears can introduce fungi and bacteria into the eye. 
If you're wondering why so many people are trading in their contacts for laser eye surgery, then let us introduce to you, corneal ulcers. Another risk of sleeping with contacts is developing an ulcer in your eye. This condition is actually one of the leading causes of blindness. Corneal ulcers are microscopic open wounds that festers when blocked from oxygen. If ulcers are not treated in a timely manner, they can cause lifelong damage to a patient's vision.
Red Eye
Contact Lens Acute Red Eye (CLARE), otherwise known as Tight Lens Syndrome or Contact Lens Overwear Syndrome, is a common condition that people experience when they sleep with contacts. Symptoms of this include redness, tearing, decreased vision, and light sensitivity. If this condition persists, contact users may experience worse symptoms and potentially suffer vision loss.
Preventing Contact-Related Infections
The best way to prevent infections from contacts is to opt for another eye correction solution. LASIK, PRK, SMILE, and other refractive surgeries can help many people achieve 20/20 vision without the need of contacts or glasses. So, if you're interested in replacing your contact lenses with clear, independent vision, then get LASIK from Excel Laser Vision Institute. Until then, here are some helpful tips for contact users: 
Avoid rubbing your eyes
Always wash your hands before inserting or removing contacts
Never reuse disposable contacts
Remove contacts before swimming
Remove contacts before sleeping or napping
Never share contacts with anyone else
Avoid costume contacts
Related Posts