Many patients can't wait to get to LASIK in Orange County because having laser eye surgery is a remarkable and exciting experience. With the best laser eye surgery at Excel Laser Vision Institute, you can guarantee that you will be able to see more clearly after the procedure.
Although many patients of LASIK eye surgery in Orange County experience a huge improvement in their eyes after LASIK surgery, some of the things are not as simple as it seems. The fact of the matter is that some patients are often concerned whether it is safe or not to get LASIK in both eyes simultaneously or if they should have the procedure carried out on one eye only at first then get back to the other eye at a later date. 
How Do Eyes Work?
To get clear vision thru LASIK in your eyes, you need to get the cornea and lens to refract or bend light rays to focus them on the retina in the back of the eye. The retina sends the light rays to the brain in the form of impulses for the brain to understand them as being images. When the light rays are not focusing on the retina, it causes blurry vision or refractive error. The purpose of LASIK is to correct this inaccuracy to provide a better vision.
If you have any part of the eye that is not perfectly shaped, such as the cornea, lens, or eyeball, it can cause refractive errors and make your vision blurry. As a result, there is a difference between the curvature of the cornea and the length of the eye. This can happen in one eye, while the other eye has a near-perfect vision, or it can occur in both eyes in different ways.
Why Would You Get LASIK In One Eye?
In some instances, LASIK is performed on both eyes simultaneously. Nevertheless, there are a few cases in which LASIK is required for only one eye or patient requests that each eye gets treatment on different days.
Here are the two most common reasons patients receive LASIK only on one eye.
Visual Disorders Affecting Only One Eye
The main reason for LASIK being carried out on only one eye is refractive errors, specifically anisometropia (lazy eye). Refractive errors can be a result of several conditions in an eye that LASIK procedures can correct. For instance, you may be nearsighted, farsighted, and experience astigmatism in only one eye. Another visual disorder is Presbyopia. This is an age-related eye condition that affects a person's ability to see because of seeing up-close, and their vision is blurred.
Patient's Request
Sometimes a patient may want to have LASIK performed on one eye at a time, usually choosing the "bad eye" first. The reason for this is because they would like to see whether the benefits of LASIK are worth it before getting the other eye treated. Some believe that this is a safe method.
What Is Monovision LASIK?
Monovision LASIK refers to having LASIK surgery to give the patient good near vision in one eye and good distance in the other. Normally, the dominant eye is first determined, and then the patient is first given contact lenses with distance vision in the dominant and near in the non-dominant.
If the patent states that he or she is satisfied with the vision they achieved during this "experiment", only then are they offered LASIK to get the same result.
If a patient already has good vision in both eyes, the contact lens trial is carried out by just wearing a near contact lens in the non-dominant eye. If all goes well, the patient would then proceed with LASIK for nearsightedness in one eye.
Should I Have LASIK On One Eye Only?
At Excel Laser Vision Institute, a LASIK clinic in Orange County, some patients want to make sure they have a good result in one eye before going forward with the other eye. Patients sometimes believe that it is somehow safer to do one eye at a time, which, judging from the surface, does feel like a more conservative and careful approach.
But here is the issue with thinking in that way:
According to a LASIK surgeon in Orange County, there is no real proof that you will experience fewer complications if the eyes are treated separately. Plus, when you consider the inconvenience factor to the whole situation, such as doubling the number of consultation visits and follow-up appointments, it isn't difficult to figure out why people usually opt to treat both eyes simultaneously.
Is Getting LASIK In One Eye Necessary?
As you can probably tell right now, there is no general right or wrong answer to this question. If an eye surgeon believes that a patient is a good candidate for LASIK in both eyes, there is usually nothing holding them back from getting both eyes done simultaneously.
If you are concerned about having LASIK in both eyes or you only need LASIK in one eye, then obviously, just get the LASIK performed in that single eye to ensure you get the best treatment for your unique situation.
Contact Excel Laser Vision Institute at (888) 957-3255 so you can talk to an eye care professional. Excel Laser Vision Institute is a reputable LASIK clinic in Orange County. Laser eye surgery can treat many refractive errors and ensure that your vision is excellent. LASIK professionals will thoroughly evaluate your eye health and condition before establishing if you are eligible for LASIK eye surgery or a similar procedure.
Dr. Moosa is a well-known LASIK surgeon with a Harvard education and a wealth of experience working with different prescription levels. Dr. Moosa has helped many professionals achieve their vision goals, from athletes to models to military personnel. Visit our website to learn more: https://www.exceleye.com/.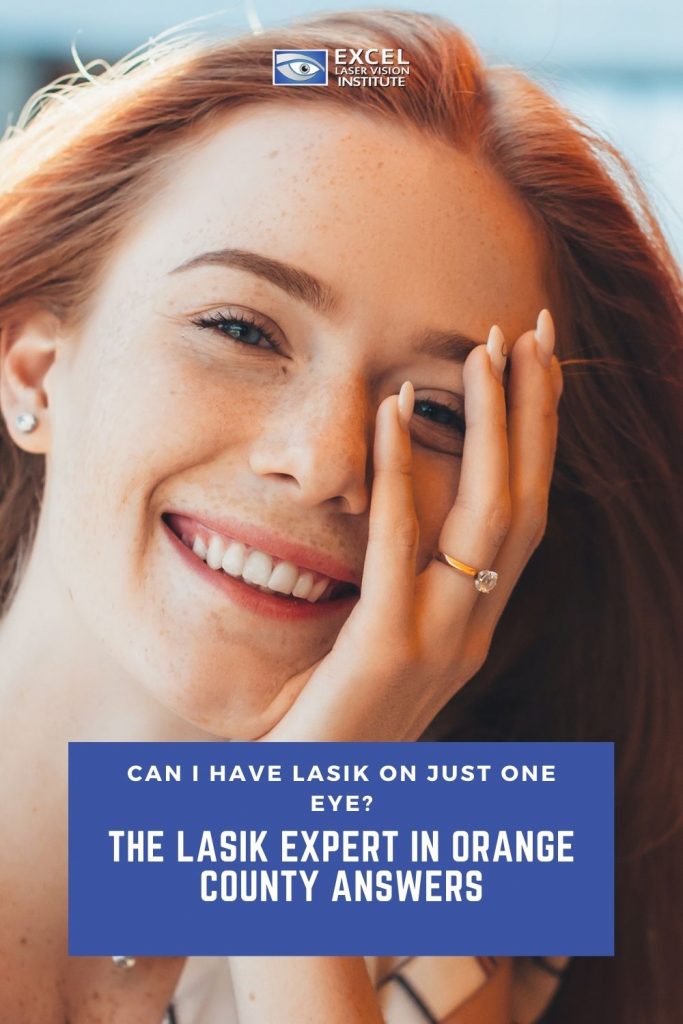 Related Posts