Sadly, many hospitals and medical practices have been adversely affected during the COVID-19 pandemic. This is because of the many changes in protocol. Therefore, several LASIK Los Angeles procedures have also been influenced during the pandemic. 
LASIK eye surgery is not a medical emergency but rather a selective laser vision correction Los Angeles procedure. Globally, LASIK is the most popular surgery that corrects nearsightedness, farsightedness, and astigmatism. 
How Does Covid-19 Affect The Eyes?
Several organs in the body, including the respiratory tract, have a mucous membrane lining. The membrane is vulnerable to coronavirus. Also, it lines the surface of the eye and inside of the eyelids and is referred to as the conjunctiva. The virus transmission via the conjunctiva is a rare condition but can result in conjunctivitis. Your eye looks pink when you have this condition, and the inner membrane (conjunctiva) gets inflamed. 
Typically, general body symptoms correlated with the coronavirus are fatigue, fever, and a dry cough, and the primary method of transmission is infected droplets. Although the evidence of infection transmission through the eyes is not well studied nor documented, it is possible that the coronavirus may spread through the eyes. 
Are There Any Risks? 
Many people who are looking into LASIK surgery wonder if the procedure is safe during the COVID-19 pandemic. As a result of the increased risk of spreading infection through a contact lens, many individuals go for LASIK for corrective eye surgery.
LASIK surgery helps the patient eliminate the need for contact lenses or dealing with foggy glasses, particularly in health care professionals who have a high risk of acquiring the virus. The LASIK Los Angeles procedure is done safely and is carried out by professionals who take the necessary precautions. 
How To Get Ready For LASIK Surgery During Covid-19?
Once you have found out the LASIK eye surgery cost, you have to take the right steps to get ready to treat your eyes with LASIK surgery. Think about the following actions to prepare for the surgery.
Look for a skilled and experienced surgeon who carries out the surgery with the highest level of safety and care.

The doctor performs a COVID-19 test before the surgery.

If you qualify, you should get vaccinated for COVID-19.

Before getting inside the center, you should be checked for body temperature and other symptoms such as cough. The surgery should not occur if a patient is diagnosed with any of the symptoms. 

The patient should practice social distancing and good hand hygiene. They should wear their mask.

The patient should arrive relaxed and have eaten something to avoid having the surgery on an empty stomach.
How Has The COVID-19 Pandemic Increased LASIK Enthusiasm?
When the COVID-19 pandemic first hit, many people in the medical field thought it would significantly lower LASIK procedure volume, as in past economic crises. This was probably due to our knowledge that LASIK and refractive surgery are usually motivated by consumer sentiment and need a lot of unrestricted income. What came as a surprise to many industry experts, including medical equipment manufacturers, commercial LASIK operators, and independent physician LASIK center owners—procedure volume has been strong, with a renewed level of enthusiasm. Many LASIK surgeons in Los Angeles haven't witnessed such enthusiastic growth since before the 2007-2008 crisis. Again, many say the cause is a perfect storm of many factors. 
What Are The Three Main Factors?
The three primary factors that are responsible for this perfect storm of revival in LASIK enthusiasm are the following:
Financial motivators (which always play a huge part) 
Lifestyle changes
Safety Concerns
Financial motivators: For the past several years, there has been an evident change to the millennial generation which makes up about 80 million of the world's population who are seeking LASIK. Even though this is a challenging population to market to persistently, many meet the economic and clinical criteria for a good LASIK candidate. 
Alas, the millennial demographic was evidently affected by the COVID-19 pandemic. In mid-MArch of 2020, many nonessential workers began to work from home. A majority of this group of potential refractive surgery patients did not lose their jobs. They did not leave their homes, their meetings with coworkers were carried out through Zoom, they had more screen time, and their workday became likely undetermined. 
Since this group of individuals had nowhere to spend their disposable income due to lockdowns almost overnight, millennials had money to spend on medical procedures instead of clothes, salons, entertainment, travel, and gym memberships.
Lifestyle changes: Another factor that creates the perfect storm for refractive surgery volume to boost is the extra time at home, with people staring at the computer, phone, and tablet screens more. People soon started to figure out that looking at a screen all day causes an increase in eye fatigue, and this was even more apparent for individuals who wore contact lenses. 
Safety concerns: The last but not the least motivator is safety. This means the possible viral transmission through hand-to-eye contact. At the beginning of the pandemic, many articles in the media indicated that the novel coronavirus could be passed through tears. Because of the media teaching us all about this, patients became very knowledgeable of the potential transmission route.
LASIK is an elective surgery since it does not treat any life-threatening disease. Moreover, similar to other surgeries, the risk of COVID-19 spread is not high because patients are not so close to surgeons. Many studies reveal that a LASIK procedure is safe if the surgeons follow all the necessary COVID-19 protocols and access personal protective equipment. 
At Excel Laser Vision Institute, LASIK surgery enhances your vision and provides you with extra benefits. Nevertheless, proper care has to be taken before opting for LASIK surgery. If you want to know more about our COVID-19 protocols during the LASIK Los Angeles procedure, please do not hesitate to call us at (310) 905-8622.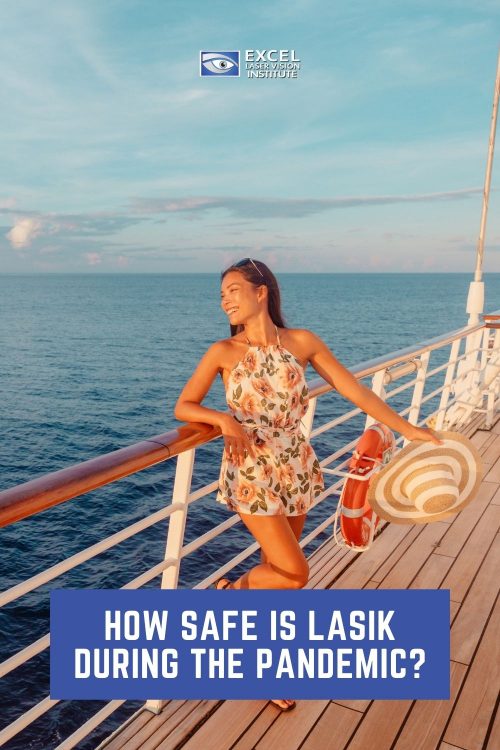 Related Posts