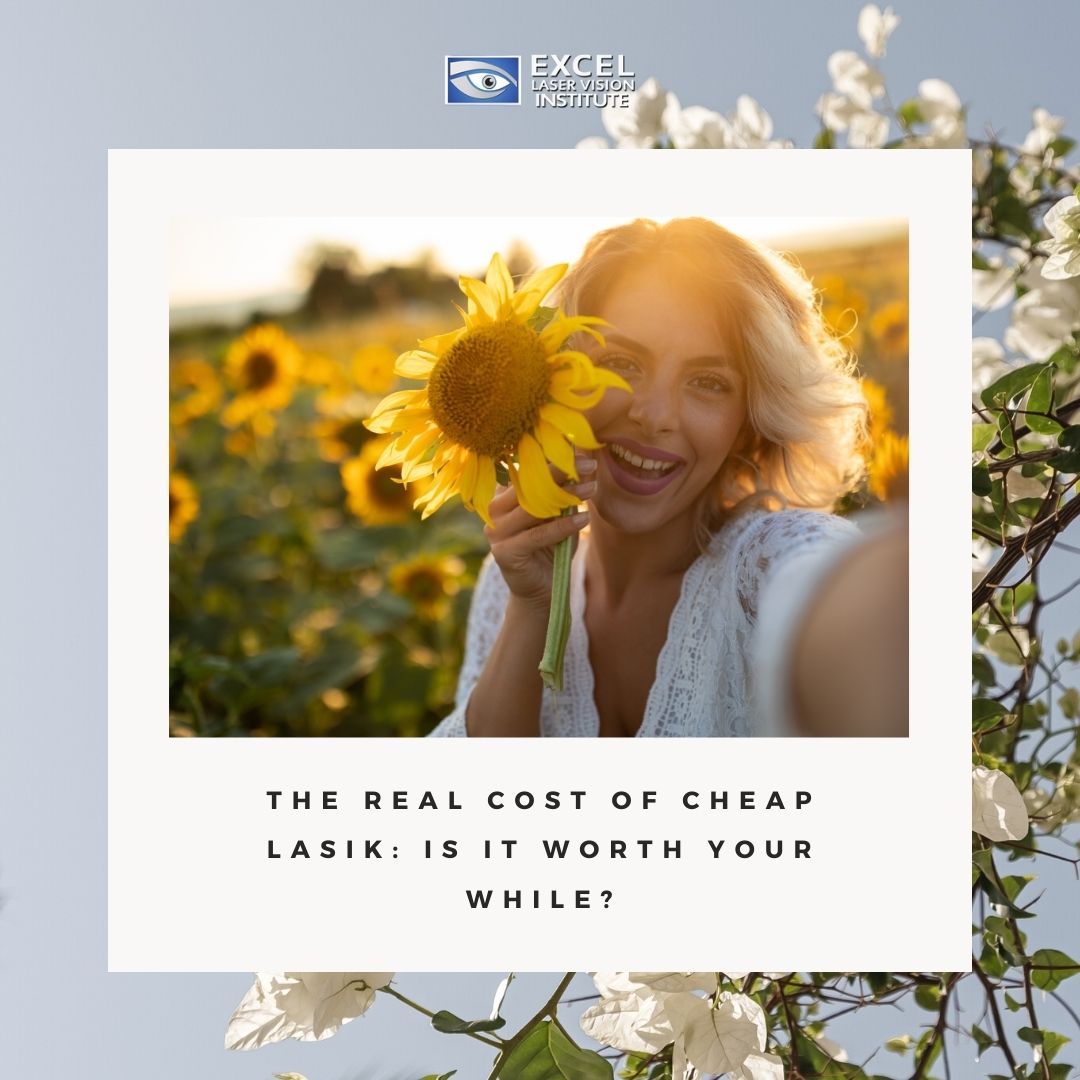 Let's face it—LASIK can be very, very expensive. LASIK in Los Angeles, for example, can get up to a whopping $4000 per eye! However, you need to step back and take a look at things clearly (pun intended).
This is your vision we're talking about—a sense that you use every day to process information, do day-to-day activities, and look at the people you love. Is it really worth sticking to the cheapest option around when it comes to fixing and improving your vision? Wouldn't you want to look at your options first and weigh out all factors besides the cost?
In addition to that, many cheap eye surgeries aren't actually cheap at all. They come with a price. Here's the truth about cheap LASIK:
False Advertising
In the marketing world, there are plenty of tactics marketers use to lure customers in. This includes phrases like "for as low as" or "with a minimum purchase of" to trick people into thinking their products and services are a lot cheaper than they are.
So, if you ever see one of these in a LASIK advert, take it with a grain of salt. You'll probably find there are tons of hidden fees not included in the advertisement and a bunch of other hoops you need to jump through.
Narrow Terms and Conditions
Have you ever looked at the fine print on coupons and realized that a coupon was essentially worthless for you? It's the same thing with cheap LASIK surgeries! They come with a ton of qualifications that only a small percentage of the population fit.
One common qualifier is your prescription. Some clinics will only offer cheap surgeries for mild levels of correction, say 20/40. Anything higher than that won't qualify you. Another is your type of correction—if you're farsighted or have astigmatism, then you probably won't qualify either.
While it's certainly annoying, it's important to read the terms and conditions.
Inexperienced Doctors
It takes lots of years and experience to become a distinguished doctor in the field. Sometimes, an inexperienced doctor will try and tempt people with cheaper LASIK costs.
Now, I'm not saying that all young, inexperienced doctors are bad. Some of my younger peers offer great laser eye surgery in Los Angeles despite only being around for a decade or so. But, if you insist on getting cheap LASIK from a doctor who hasn't been around for too long, then expect to be someone's guinea pig.
Exclusive Fees
The cost of LASIK isn't just the cost of the procedure. It also includes pre-surgery care including consultation and equipment, and post-surgery expenses like medication and follow-ups. So, if the price of LASIK seems too good to be true, then it probably doesn't include these. This will be an additional load on your pocket that you didn't expect to pay.
Older Technologies
Since its development in the late 2000s, LASIK has gone through so many technological advancements. For example, custom LASIK surgeries can now measure the eye with revolutionary wavefront technology, creating a 3D image of your eye to determine what needs to be changed. A few years ago, LASIK patients got a standard treatment that was applied to everyone regardless of different needs.
Some eye clinics can be cheaper because they don't have the most up-to-date technologies. This could make your surgery less safe and less effective.
Low Success and Satisfaction Rates
No eye surgery clinic should ever claim they have 100% success and satisfaction rates. It's simply impossible. LASIK eye centers in Los Angeles, for example, have 99% success rates and 96% satisfaction rates, and some of these are the best (and the most expensive) the business has to offer!
So, don't be surprised to see lower success and satisfaction rates at cheaper eye clinics. As a general rule of thumb, the lower the price rates, the lower the success and satisfaction rates too. And the cheaper your surgery is, the likelier you'll have to go back multiple times for enhancement procedures, adding to your overall costs.
How Should I Choose a Good LASIK Eye Center?
Now that you know the risks of cheap LASIK, you might be wondering: how do I find the best LASIK for me? Well, here are several things you need to think about when making your choice:
Choose Your Eye Doctor Carefully
A great LASIK surgery is at the hands of a great LASIK surgeon and their clinics. It's important to know all you can about a surgeon before jumping into surgery with them.
One way to do this is by asking how long they've been in the business. Have they been around long, or did they just start practicing? Doctors with years in their belt are oftentimes the most qualified in their fields because they've done countless procedures before.
Another thing you could look at is their success and satisfaction rates. Sure, the doctor may be young, but if their rates are 95% and above, then they must do a fantastic job with their patients. Read patient reviews too—they give a good idea of what to expect from people who had already undergone surgery.
Be Wary of Shady Tactics and Gimmicks
In this article, we emphasized how cheap LASIK is marketed. They always come at a cost, whether it be hidden and exclusive fees, poorer quality of surgery, and outdated technologies. Hopefully, you've learned to be more skeptical about them and always ask questions.
And on that note…
Do Your Research
It's very, very important to do your own research. You need to look at things with your own eyes (ha!) and not believe everything people tell you about LASIK. As we mentioned earlier in the introduction, it's important to make careful decisions about it because our vision (and wallet) are at stake. LASIK is a huge investment, and you wouldn't want to watch your hard-earned money fall down the drain, would you?
Now that you're here and considering all your options, might we recommend our very own Dr. Ferzaad Moosa? He has been providing LASIK eye surgery for Orange County and Los Angeles residents for over fifteen years and is a certified member of the American Board of Opthalmology. He'll definitely make sure your LASIK investment will be worth your while—take it from his happy clients!
Get in touch with us at (310) 905-8622 or here for a free evaluation!
Related Posts