Whether you are a gym rat purely for recreational purposes or a professional athlete, it can be nearly impossible to perform at the optimum level if you suffer from poor vision. Even if you have been wearing glasses or contacts for your entire life, you may feel that it is no longer working out for you and that you need to find a substitute. So how can LASIK in Orange County serve as that alternative you've been looking for?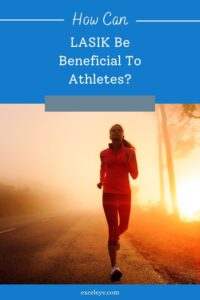 Orange County laser eye surgery is more useful than glasses.
Wearing glasses while jogging or playing a beloved sport like baseball is a massive pain. Plus – you can't wear glasses if you are a competitive swimmer. Depending on the circumstances, these glasses can also cause fogging and clouding vision. Consider the sport of triathlon. Transition time is valuable, and fussing over changing glasses is not worth it. What if your drinks break or you lose a contact lens during the competition? You'll simply be out of luck!
Corrective Eye surgery is a more reliable solution.
Your glasses may become displaced or broken during a game or practice if you participate in sports. There is always a risk of infection when wearing contact lenses, especially when swimming, and the risk of trauma and infection is eliminated with 
Winter sports
When it comes to winter sports, LASIK has an advantage over glasses. In cold weather, glasses can fog up, impairing performance and safety in winter sports. Water sports are also made more accessible and safer after LASIK, and infection risk is reduced by avoiding contact lenses in the water.
Overall better performance in any sport you enjoy
Glasses, significantly higher prescriptions, do not always provide a realistic vision, and they can cause distortion or magnification changes. The difficulties with bifocals or progressive lenses can be even more remarkable; they require unique gaze positioning, which can be difficult when participating in sports. LASIK improves depth perception and reaction time, critical skills for athletes.
You'll find yourself recovering and returning to your sport in no time!
Although most people recover quickly after LASIK, each person is unique. Allow extra recovery time after surgery if your recovery takes longer than expected. You can always return to your game sooner if you want to. The recovery time for LASIK is not as long as it is for PRK. As a result, one eye is completed first and then allowed to heal before the second is completed. The spacing of the surgeries on each eye allows for the best possible recovery.
So many famous athletes and celebrities have had tremendous success with LASIK. These big names include but are not limited to LeBron James, Tiger Woods, and Dwayne Wade….and you could be next! Please get in touch with us at (310) 905-8622 to schedule a free Orange County LASIK consultation. Every patient who visits our offices receives the highest level of professional service. Our premiere Orange County laser eye surgeon, Dr. Ferzaad Moosa, is a Harvard-trained physician who is more than qualified to answer any of your questions regarding the process. Whether you wish to find out if you are a good candidate for the surgery or ask about the cost of laser eye surgery, we are confident that choosing us for your LASIK surgery will be one of the best decisions you will make on behalf of your well-being.
Related Posts