Are you debating which time of the year is best to undergo Orange County LASIK surgery? For various reasons, the optimal time to have LASIK to treat your refractive problems is in the fall. Learn why getting LASIK during these crispy autumn months is the best time to book a consultation with an Orange County LASIK surgeon by reading all the reasons below!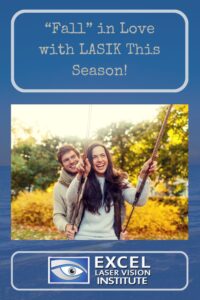 No Dry Eyes? Less sun? Fewer problems!
Too much sun exposure is bothersome and painful after LASIK. You can avoid some of the sunniest days and the fiercest rays by delaying until the days are shorter in the fall. This will make the initial phases of your LASIK recovery easier for you. The more at ease you are after the treatment, the quicker you will recuperate and return to normal!
 In addition, the heat is turned up, and the air is dryer in the winter. Your eyes may be susceptible to cold weather and temperature changes. If dry air frequently irritates your eyes, you should undergo LASIK eye surgery in the fall. The atmosphere is more humid in the fall, making recovery much more straightforward. Additionally, getting LASIK in the fall will allow you to spend more time outside if you enjoy being out in the winter. Going skiing or building snowmen with the little ones will be much simpler!
Lesser risk of allergies next spring!
The LASIK operation and recovery period can be bothersome if done during allergy season. The first few weeks of your LASIK healing can be unpleasant due to airborne allergens, and your eyes will probably be scratchy and uncomfortable for a while after LASIK. Allergies only make this issue worse. You can have a hassle-free allergy season the following spring by having LASIK in the autumn. Additionally, wearing contacts worsens allergies because they trap allergens beneath them. You can now stop wearing contacts altogether by having LASIK. The LASIK operation and recovery period are complex if done during allergy season. The first few weeks of your LASIK healing can be unpleasant due to airborne allergens.
More time for all your favorite fall activities!
Numerous activities specific to the fall season are "in" during this time of year. These classic activities include collecting apples, going to pumpkin patches, navigating corn mazes, and taking in the crisp autumn air. However, wearing contacts and glasses makes it challenging to enjoy these activities. With the help of the best LASIK eye surgery in Orange County, nothing will slip under your contacts, and you won't have to worry about your glasses coming off when moving around. You can do them without worrying about cracking your glasses or aggravating your contacts. You'll be able to fully experience the extraordinary things that September, October, and November offer. And everything you see in these present fresh moments will be with more crisp vision!
Book your consultation appointment right now!
Call Dr. Ferzaad Moosa at the Excel Laser Vision Institute if you're interested in Orange County LASIK surgery. You can complete this form for a free consultation to start discussing financing options for the cost of laser eye surgery and beyond! We can hardly wait to have you here at our LASIK center near Buena Park!
See related article here:
Related Posts