It's reasonable to be concerned about the side effects of LASIK eye surgery, such as dry eyes. Not every patient has symptoms following surgery. However, we have some good news for you: these symptoms are typically light and transient in those who do. One of the major advantages of Orange County LASIK is that it provides rapid recovery. Most patients return to their routines in less than a day, and many won't need to take a day off from work or school.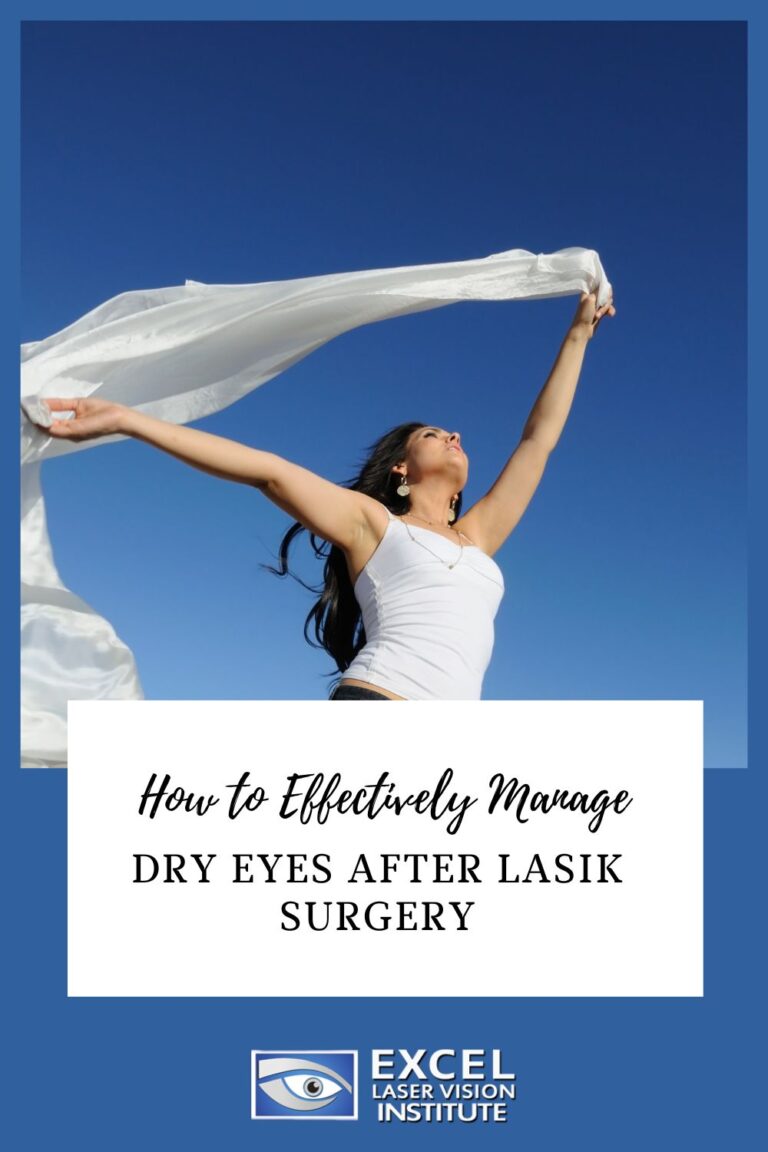 Dry eye is one of the most typical side effects of LASIK. Having dry eyes can cause watery eyes, tired eyes, red eyes, vision distortion, a scratchy feeling, Stinging or burning, and difficulty driving at night. According to WebMD, 95% of patients experience dry eye immediately following a vision correction operation. But in the weeks following your Orange County laser eye surgery, you should see a noticeable improvement. The fewer dry eye symptoms you might anticipate, the further you are from your LASIK treatment.
Eye drops
You will be provided with lubricating eye drops by your Orange County LASIK surgeon to promote eye healing and manage side effects, including dry eyes. When and how to administer the drops must be done according to the directions. The symptoms of dry eye can be lessened by keeping your eyes moisturized with drops. After your procedure at our LASIK center near Fullerton, Ca, you can use over-the-counter eye drops, also known as artificial tears, as long as you need to. Once your operation is over, our staff will give you all the post-op care information you'll need.
Following LASIK, you'll be given an activity schedule outlining when you can resume regular activities. Within 24 hours, you'll be able to perform most of your daily tasks, including using electronic devices. Even though you'll be able to use screens without any problems, it's advised to limit your usage while your eyes recover, at least for a few days after LASIK. Doing this will lower your risk of developing dry eyes and lessen any associated symptoms. 
Be sure to take regular breaks from digital gadgets, and use lubricating eye drops if they worsen your dry eye symptoms.
Scleral contact lenses
LASIK is known to be a quick and painless surgery. After undergoing LASIK surgery, can your eyes start to burn? You can get the necessary alleviation through scleral contact lenses. These contacts are more substantial than regular contacts. Since they cover more of your eye, scleral contact lenses can retain a barrier of tears between the lens and your cornea. A porous substance was used to make these lenses. Scleral contact lenses will keep your body's tears in constant contact with your eye while also giving comfort. The dryness, burning, and irritation you're feeling ought to go away as a result.
Collagen punctal plugs
Punctal occlusion prevents drainage, prolonging the duration that tears remain on the surface of your eyes. Punctal collagen plugs are a non-permanent alternative, and these plugs will block the tear drainage ducts for roughly four days. After ten days, they will completely dissolve. After surgery, collagen punctal plugs are the best option. Your symptoms will probably feel the worst at this time.
Excel Eye is committed to your well-being.
Our Orange County LASIK center staff is dedicated to providing the best care possible for you. We have acquired the best knowledge and technology on the market on eye health so that you can enjoy a better life immediately. Our top-rated physician can assist you with any questions regarding the process, from aftercare to financing for the cost of laser eye surgery. 
Related Posts