The cataract surgeon in Los Angeles and Orange County tell us that cataract surgery is a very common surgery, and it usually takes about ten to thirty minutes to perform. Although the surgery is easy compared to other medical procedures, it's still just as critical to take care of yourself post-surgery and give your eyes time to heal properly. Make sure you do your research and ask your surgeon some questions, especially what the recovery after surgery looks like and what it involves.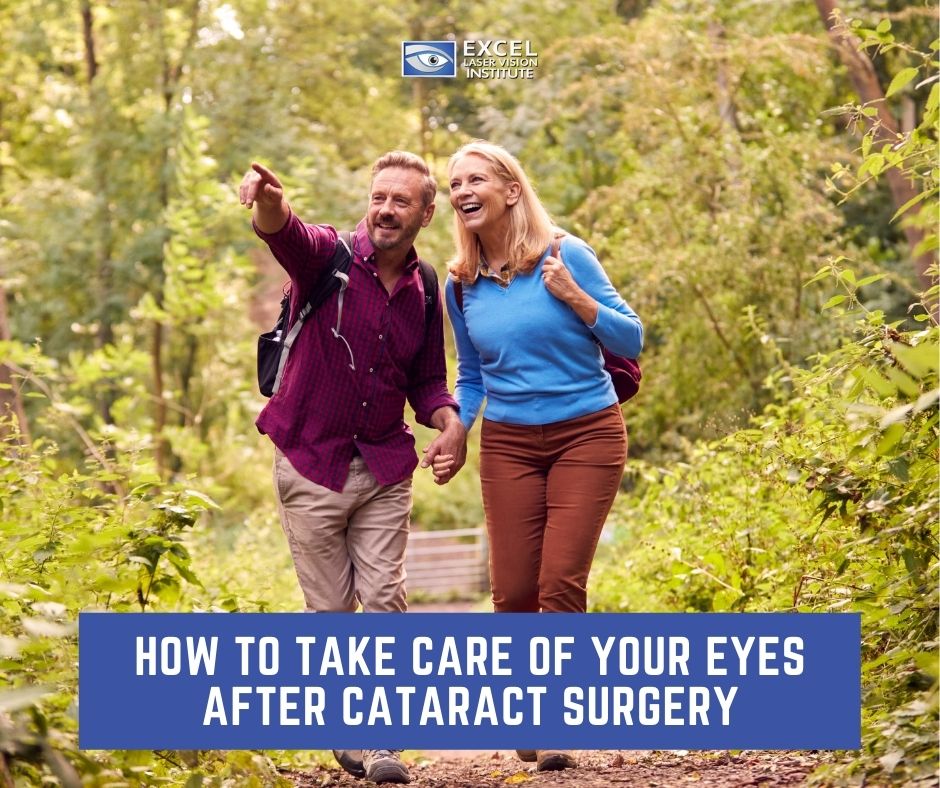 Before you meet up with your cataract surgeon at Excel Laser Vision Institute, read below what cataract surgery involves and how to best take care of your eyes after surgery.
What are Cataracts?
When an eye is infected with cataracts, there's a cloudy film that forms over the eye's lens and impairs a person's vision. Cataracts can develop in one or both eyes. Some research has connected cataracts to diabetes, smoking, and alcohol abuse, but many are just a consequence of years of wear and tear to the eye. 
What's The Best Cataract Treatment?
In the beginning, patients with cataracts usually report mild symptoms that can easily be treated by glasses or contacts. However, cataracts are progressive, and as cataracts develop further, symptoms become more obvious and more challenging to treat with corrective eyewear. In the long run, the only method to effectively restore vision is to surgically replace the clouded lens with an artificial lens. 
Once you know the eye surgery cost but you still feel that the concept of cataract surgery is nerve-racking, it may be encouraging to be reminded that based on information from the National Eye Institute that cataract removal is one of the safest, most effective, and most common operations performed in the United States. Around ninety percent of cataract cases report having better vision afterward. 
What Does Cataract Surgery Involve?
The cataract surgeon in Los Angeles and Orange County replace the clouded lenses with intraocular lenses (IOLs). These lenses let patients receive clear vision again, usually with very limited requirements for contact lenses and eyeglasses. The procedure is carried out in thirty minutes and doesn't require sutures. 
What Happens After Cataract Surgery?
After your cataract surgery in Los Angeles or Orange County, you'll most probably wait in a recovery room until the anesthesia starts to wear off.  Even though you feel good enough to drive yourself home, the eye doctors will be strongly against this idea and recommend to all their patients to have a friend or family member drive them home after cataract surgery. 
Besides the side effects of anesthesia, many people have clouded vision right after cataract surgery, which is the reason why doctors suggest you have someone else drive you home as a safety precaution. 
Additionally, having a friend or family member by your side before the procedure is a good way to help you calm any nerves you may have. Also, this friend or family member can stay with you for the rest of the day as you recover. 
You shouldn't eat or drink before the surgery. Your cataract surgeon will inform you on how many hours before surgery you should stop eating and drinking. Furthermore, don't forget to remove any contact lenses before surgery, and also removing make-up is highly recommended. 
How To Take Care Of Your Eyes After Cataract Surgery?
Once you arrive home after cataract surgery, you should just take it easy. Get as much rest as you can. Eye doctors even tell their patients to take a nap when they get home if they can. If you see any bruising around the eye from the anesthesia, or popped blood vessels from the pressure your eyes went through, don't be concerned. These side effects should go away on their own within a few days. 
After you've had a good rest of at least a couple of hours at home, you can go ahead and watch some television, bathe or shower, and work on the computer. However, you should avoid swimming pools and hot tubs for up to one week. Over the next few weeks, you shouldn't do activities that may result in getting dirt or dust in your eyes, such as dusting or gardening. 
Furthermore, doctors usually advise patients to avoid cooking for at least a week after cataract surgery. The reason being is that cooking could irritate your eyes as they recover from cataract surgery. As you cook, steam and water could get to your eyes. Although this is not something you would normally be concerned about, it's important that your eyes don't become wet for a week after cataract surgery. Plus, patients are also told to avoid extreme heat, something that exists when cooking. Because of the above explanations, you shouldn't cook for at least a week after cataract surgery.  
Make Sure To Take Your Medications
If your eye doctor prescribed antibiotic eye drops, take them for the entire course as prescribed, even if your eyes feel normal. The eye drops help the healing process and help hinder infection. You'll have to attend several visits with your ophthalmologist in the next few days and weeks after cataract surgery. Your doctor will examine your eyes to confirm that everything is healing as expected. Also, you will be fitted with a new pair of glasses, if you need them. 
You should do your best to follow the instructions above to make sure your cataract surgery goes ahead smoothly without or with very few complications to worry about. This will help you recover much faster and help you get back to your normal routine quicker. If you have any particular questions about getting over cataract surgery, the teams at Excel Laser Vision Institute's Los Angeles and Orange County clinics are ready and happy to answer them.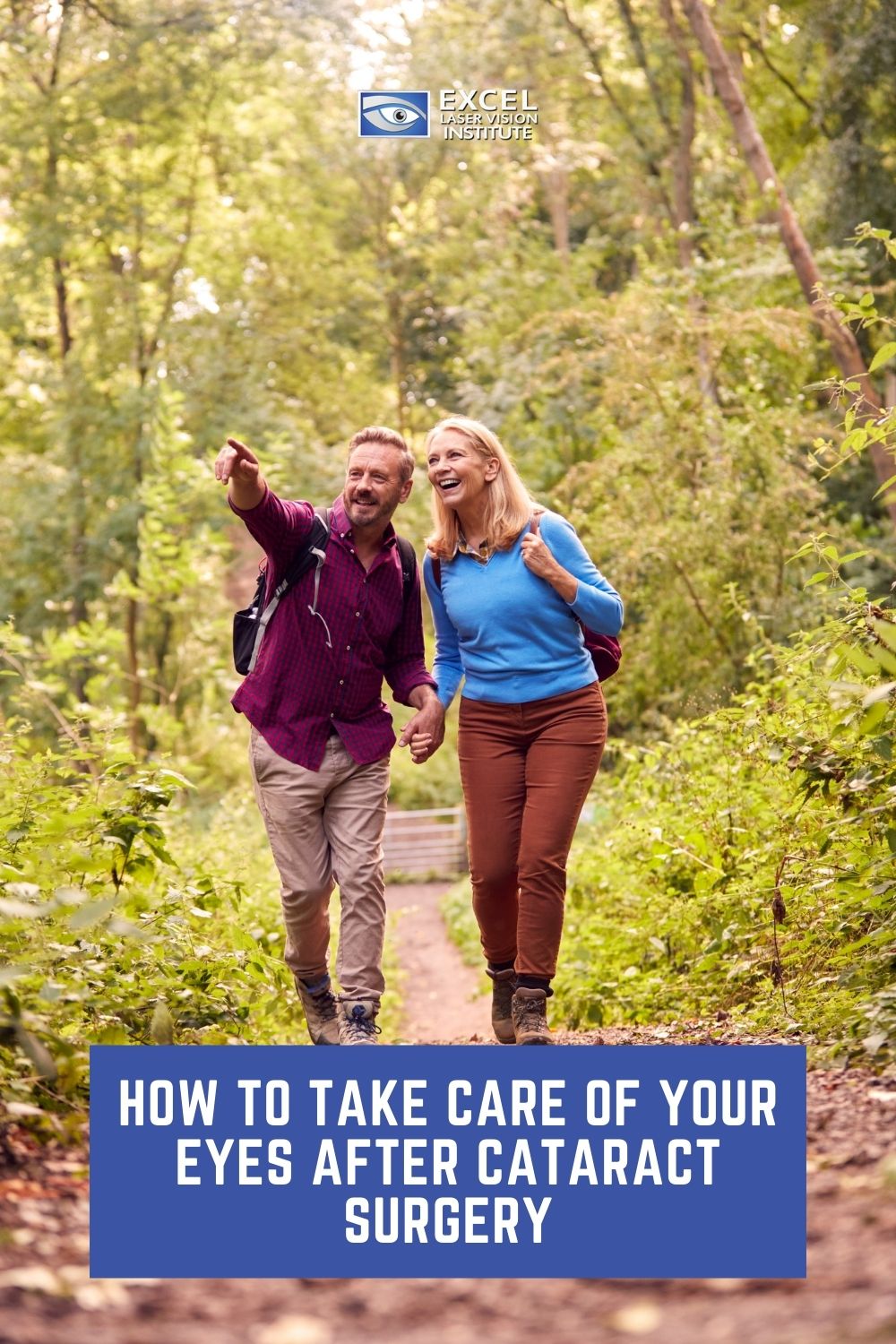 The cataract surgeon tells us that cataract surgery, also referred to as Phacoemulsification, is a fast and straightforward procedure. Typically, the eye surgery operation is a day case. When the patient arrives at the hospital or clinic, the surgical team will have to prepare his or her eyes for surgery. 
This involves the eye surgeon putting some drops in the patient's eyes to dilate his or her pupils to make them wider. Also, the patient is asked to sign some consent documents and is handed a surgical gown to wear.
When the patient is in the operating theater, the cataract surgery takes about 15 minutes and he or she will be discharged from the hospital when they feel ready to leave. Your visit will take no longer than four hours. 
An eye surgeon can perform cataract surgery using eye drops to numb the area or else under local anesthetic. If you have cataract surgery with eye drops only, your eye surgeon will advise you to wear a transparent shield over your eye until you arrive home. 
If your eye surgeon uses a local anesthetic, you will have to wear an eye pad and a shield for a few more hours until the anesthetic wears off. 
What Are The Side Effects Of Cataract Surgery? 
Right after surgery, your eye will water and feel a little gritty. However, don't worry because that is a normal side effect. Also, your vision will be slightly blurred, and your eye may also feel sensitive to light and look red or bloodshot. 
The drops that were used to dilate your pupils before surgery, will take at least 24 hours to wear off. During this time, don't be alarmed if you notice your pupil is larger than average. Additionally, your vision will be blurred while you wait for the drops to wear off. 
How Long Does It Take To Recover From Cataract Surgery?
Again, don't freak out if your vision seems cloudy, distorted, or blurry when your cataract surgeon first takes off the eye shield. It can take a while for your visual system to get used to the removal of the cataract and get familiar with the intraocular lens used to replace the eye's natural lens. 
Some patients have claimed to see "wavy" vision or distortions during this familiarization period. This phenomenon, if it exists, should only last for about an hour. 
Furthermore, red and bloodshot eyes are common because of the temporary damage to blood vessels on the white part of the eye (sclera) during cataract surgery. While the eye heals, the redness should disappear within several days. If the eye surgeon administered an injection of anesthesia through the skin into the lower portion of your eye, you may see some bruising that looks like a black eye. Again, this will also fade within a few days. 
Most patients say their vision clears up within several hours after cataract surgery. However, everyone heals differently, and you may require at least a week or two before you see images in their sharpest focus. 
Typically, you will have a follow-up appointment with your cataract surgeon the day after the procedure to ensure there are no complications. Also, if you feel pain or immense discomfort in the days following the visit, you should let your eye surgeon know. 
Occasionally, some patients make known to their eye doctor some dry eye or "scratchiness" after cataract surgery. These feelings should lessen as the eye heals unless the person already had issues with dry eyes before having the procedure. 
A complete cataract surgery recovery should happen within around a month when the eye is entirely healed. 
What Are The Best Ways To Help Cataract Recovery?
Surprisingly, many patients feel very good and find they can easily get back to their normal activities even the day after cataract surgery. 
Nevertheless, you should pay attention to a few preventive measures during the first week to guarantee you avoid any complications during your cataract surgery recovery. 
Typically, your cataract surgeon will prescribe antibiotic eye drops to prevent infection, and anti-inflammatory eye drops to help lessen any internal inflammation. You have to apply the eye drops several times daily for at least the first week following surgery. 
Revolving around how much postoperative inflammation you have, you may require the drops for a few weeks to a month. It's recommended to use these drops precisely as prescribed. 
For instance, oral pain relievers such as acetaminophen may be prescribed, if required. Normally, however, you should feel a little discomfort after cataract surgery.
To make sure you have a safe and quick recovery, read the advice below. 
Avoid driving on the first day following surgery –

You should talk to your eye doctor about when you can safely get back behind the wheel since it's all based on your recovery.

Don't do any strenuous activities for a few weeks –

Don't do any rigorous exercise and activities that involve heavy lifting for a few weeks to reduce the possibility of increased eye pressure. The reason being is that high eye pressure can disrupt the incision before it completely heals. You should avoid getting into positions that place your head below your waist. For instance, bending over can increase eye pressure and should be avoided immediately after surgery.

Avoid Pools And Shower Carefully –

After cataract surgery, exposing your eyes to water increases your risk of infection. So, do your best to avoid pools and shower carefully until your eye has healed completely. Most eye surgeons will recommend giving yourself at least one night of sleep before showering and don't allow a stream of water to hit your eye directly. You should ask your doctor when it is safe to start swimming or using a hot tub. In many instances, you will resume these activities within a few weeks. 

Protect Yourself From Irritants And Other Trauma –

When you arrive home from your cataract surgery, it is normal to feel that you have an object in your eyes such as a particle of sand or an eyelash. Overall, expect your eyes to feel sensitive to the environment for about a week after surgery. It's a good idea to get wraparound sunglasses to protect yourself from exposure to dust, pollen, and dirt, and these sunglasses will help with sensitivity to light. 
Additionally, your eye doctor will provide you with an eye shield for you to put on while sleeping during your recovery time to prevent you from rubbing or touching your eyes.  
Abide By Your Cataract Surgeon's Orders
You should ask your doctor about precautions you can take, such as the ones listed above, and the appropriate timelines for getting back to normal activities. Also, you should contact your cataract surgeon right away if you experience any of the following symptoms after your cataract surgery:
Vision loss

Spots (

floaters

) or flashes in your vision

Eye pain

Nausea, vomiting, or excessive coughing
Make sure to follow the dosage instructions of the prescribed medications, such as eye drops or pain relievers. Every patient and every eye has particular requirements, so your eye doctor will give the best directions for a successful recovery. 
On the whole, you can carry out these activities within a couple of hours of your surgery:
Computer work

Light TV watching

Showering or bathing
To get the best cataract surgery recovery results ever possible, make sure to follow your doctor's instructions on how to protect your eye following your procedure. Typically, these instructions are provided to you as a handout that you can take home on surgery day. 
If you require cataract surgery in both eyes, your eye surgeon will usually wait about a couple of days to two weeks for your first eye to recover before performing a procedure on the second eye.