The cataract surgeon in Los Angeles and Orange County tell us that cataract surgery is a very common surgery, and it usually takes about ten to thirty minutes to perform. Although the surgery is easy compared to other medical procedures, it's still just as critical to take care of yourself post-surgery and give your eyes time to heal properly. Make sure you do your research and ask your surgeon some questions, especially what the recovery after surgery looks like and what it involves.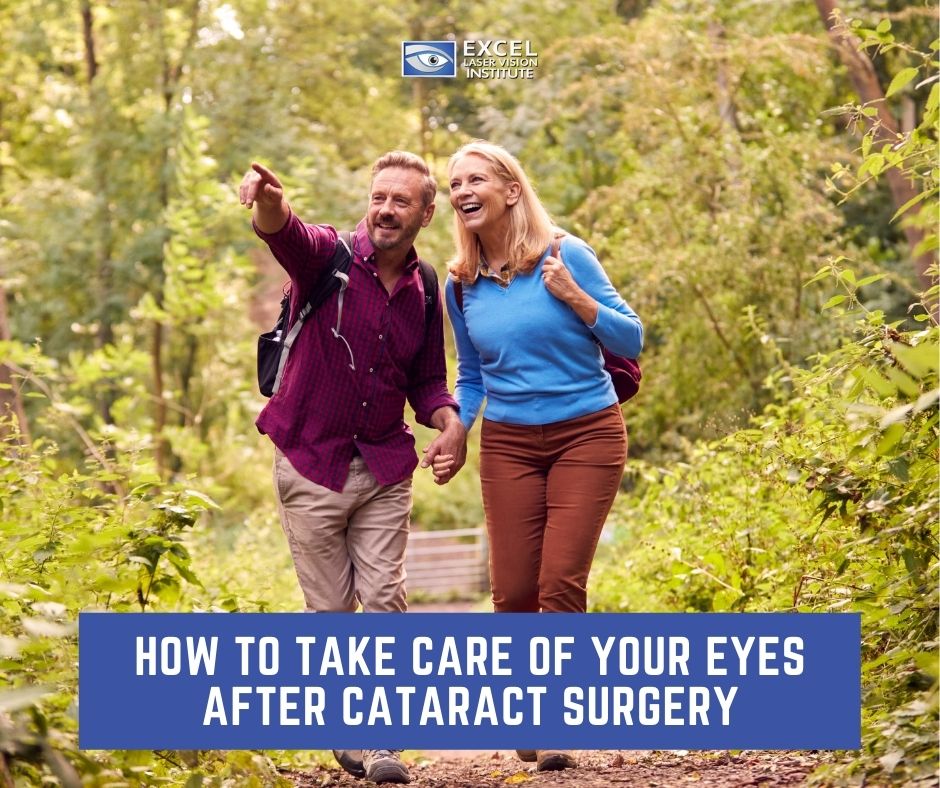 Before you meet up with your cataract surgeon at Excel Laser Vision Institute, read below what cataract surgery involves and how to best take care of your eyes after surgery.
What are Cataracts?
When an eye is infected with cataracts, there's a cloudy film that forms over the eye's lens and impairs a person's vision. Cataracts can develop in one or both eyes. Some research has connected cataracts to diabetes, smoking, and alcohol abuse, but many are just a consequence of years of wear and tear to the eye. 
What's The Best Cataract Treatment?
In the beginning, patients with cataracts usually report mild symptoms that can easily be treated by glasses or contacts. However, cataracts are progressive, and as cataracts develop further, symptoms become more obvious and more challenging to treat with corrective eyewear. In the long run, the only method to effectively restore vision is to surgically replace the clouded lens with an artificial lens. 
Once you know the eye surgery cost but you still feel that the concept of cataract surgery is nerve-racking, it may be encouraging to be reminded that based on information from the National Eye Institute that cataract removal is one of the safest, most effective, and most common operations performed in the United States. Around ninety percent of cataract cases report having better vision afterward. 
What Does Cataract Surgery Involve?
The cataract surgeon in Los Angeles and Orange County replace the clouded lenses with intraocular lenses (IOLs). These lenses let patients receive clear vision again, usually with very limited requirements for contact lenses and eyeglasses. The procedure is carried out in thirty minutes and doesn't require sutures. 
What Happens After Cataract Surgery?
After your cataract surgery in Los Angeles or Orange County, you'll most probably wait in a recovery room until the anesthesia starts to wear off.  Even though you feel good enough to drive yourself home, the eye doctors will be strongly against this idea and recommend to all their patients to have a friend or family member drive them home after cataract surgery. 
Besides the side effects of anesthesia, many people have clouded vision right after cataract surgery, which is the reason why doctors suggest you have someone else drive you home as a safety precaution. 
Additionally, having a friend or family member by your side before the procedure is a good way to help you calm any nerves you may have. Also, this friend or family member can stay with you for the rest of the day as you recover. 
You shouldn't eat or drink before the surgery. Your cataract surgeon will inform you on how many hours before surgery you should stop eating and drinking. Furthermore, don't forget to remove any contact lenses before surgery, and also removing make-up is highly recommended. 
How To Take Care Of Your Eyes After Cataract Surgery?
Once you arrive home after cataract surgery, you should just take it easy. Get as much rest as you can. Eye doctors even tell their patients to take a nap when they get home if they can. If you see any bruising around the eye from the anesthesia, or popped blood vessels from the pressure your eyes went through, don't be concerned. These side effects should go away on their own within a few days. 
After you've had a good rest of at least a couple of hours at home, you can go ahead and watch some television, bathe or shower, and work on the computer. However, you should avoid swimming pools and hot tubs for up to one week. Over the next few weeks, you shouldn't do activities that may result in getting dirt or dust in your eyes, such as dusting or gardening. 
Furthermore, doctors usually advise patients to avoid cooking for at least a week after cataract surgery. The reason being is that cooking could irritate your eyes as they recover from cataract surgery. As you cook, steam and water could get to your eyes. Although this is not something you would normally be concerned about, it's important that your eyes don't become wet for a week after cataract surgery. Plus, patients are also told to avoid extreme heat, something that exists when cooking. Because of the above explanations, you shouldn't cook for at least a week after cataract surgery.  
Make Sure To Take Your Medications
If your eye doctor prescribed antibiotic eye drops, take them for the entire course as prescribed, even if your eyes feel normal. The eye drops help the healing process and help hinder infection. You'll have to attend several visits with your ophthalmologist in the next few days and weeks after cataract surgery. Your doctor will examine your eyes to confirm that everything is healing as expected. Also, you will be fitted with a new pair of glasses, if you need them. 
You should do your best to follow the instructions above to make sure your cataract surgery goes ahead smoothly without or with very few complications to worry about. This will help you recover much faster and help you get back to your normal routine quicker. If you have any particular questions about getting over cataract surgery, the teams at Excel Laser Vision Institute's Los Angeles and Orange County clinics are ready and happy to answer them.