Imagine you have just had a LASIK, PRK, or even Contoura in Orange County done, and one of the supportive LASIK team members hand over to you a part of post-operative sunglasses and ask you to wear them. These sunglasses will not be the oversized plastic Cataract shades, but they aren't going to be a fabulous sporty pair of Ray-Ban aviators either!
The first thing that the best laser eye surgery doctor in Orange County will tell you is to go shopping and get yourself a good pair of sunglasses to protect your eyes. However, the million-dollar question is, "What makes a pair of sunglasses the best pair to protect your eyes?" The American Academy of Ophthalmology has created the criteria below to give you a helping hand when choosing the best sunglasses to protect your eyes from the sun. 
Which Sunglasses Should I Purchase?
If you think sunglasses are only a fashion accessory, think again. They are vital protection for your eyes against the harmful rays of the sun. You must understand what type of light you need to protect your eyes from and what type of light is not necessarily harmful. Here is some advice from a LASIK eye surgery doctor in Orange County on picking out the right pair of nonprescription sunglasses. 
Sunglasses Should Block The Harmful Rays Of The Sun
Go for the sunglasses that block ninety-nine percent of ultraviolet (UV) rays. This is the most critical attribute of your sunglasses, and you should always choose sunglasses that offer this protection. Long-term exposure to ultraviolet (UV) radiation in sunlight is connected to eye disease, including cataracts. Some manufacturers' labels claim UV absorption up to 400nm. This is the same as 100 percent UV absorption. Some glasses make additional claims for blocking infrared rays, but studies have not shown a close link between infrared rays and eye disease.
A more expensive pair of sunglasses doesn't necessarily mean a better pair of sunglasses. Many types of affordable sunglasses provide 99 to 100 percent UV protection, so you don't have to fork over tons of cash on a pair of sunglasses. Inspect the quality of the sunglasses. Besides UV protection, you should also check the optical quality of the lenses. The LASIK eye doctors in Orange County recommend you test the quality of sunglasses by looking at something with a rectangular pattern, such as a floor tile. Get a hold of the glasses at a comfortable distance and cover one eye. Move the glasses gradually from side to side, then up and down. If the lines remain straight, the lenses are good. If the lines zigzag, particularly in the center of the lens, try on another pair. 
You want to look for impact-resistant lenses. All sunglasses must meet impact standards that the U.S. food and Drug Administration has set out for safety. No lens is really unbreakable, says the LASIK eye doctor in Orange County, but plastic lenses are not as likely to shatter when hit by a ball or stone. Polycarbonate plastics, utilized in many sports sunglasses, are incredibly durable but scratch easily. If you buy polycarbonate lenses, choose ones that have a scratch-resistant coating.
Make sure to use protective eyewear rather than sunglasses for hazardous activities. If you are going to be busy in outdoor activities such as water or snow skiing that put your eye in harm's way for injury, don't rely on your eyeglasses for protection. Protection eyewear is available with UV protection to safeguard your eyes from sunburn and glare. 
Lens color tinting and polarization are personal options. There's no medical reason to suggest one tint of the lens over another. The same goes for polarized lenses that work better at deflecting glare, but they're not blocking any more harmful UV light than non-polarized lenses.
Undoubtedly you want a nice pair of polarized lenses after surgery. However, it is normal to experience some glare during your LASIK recovery, and polarized lenses are designed to reduce glare. You don't have to opt for the most expensive pair of polarized lenses. You will know a pair of sunglasses are polarized since they will have a sticker or label indicating polarized.
When shopping for sunglasses, try to go for ones that provide full coverage. The sunglasses that your eye doctor will give you after surgery offer you lots of coverage, including peripheral vision, but you don't need massive, bulky glasses for that. Try to find sunglasses with wraparound style lenses, which provide full coverage and often showcase a stylish design. It is best to find a pair that offers coverage for all angles of your vision. 
When you find the right sunglasses, make sure you wear them, particularly in the summer when UV levels are about three times higher than in the winter. Also, be sure to wear them when taking part in winter sports, especially at high elevations.
Protecting your eyes as they heal after your PRK, LASIK, or Contoura surgery is essential. Unique, quality sunglasses will get the job done. Here at Excel Eye Vision Center, we can provide the sunglasses you need after your eye correction surgery. You are welcome to visit our clinic in Orange County and Los Angeles for a one-on-one consultation. Please call us at (866) 923-9235 if you want to set an appointment or ask questions about our available sunglasses suitable for post-PRK, LASIK, and Contoura cases.
At Excel Laser Vision Institute, we have a team of experienced staff and cutting-edge laser technology to perform Contoura, PRK, LASIK, SMILE, and other vision correction alternatives. Our Harvard-trained surgeon, Dr. Moosa, serves both our Orange County and Los Angeles offices. Once we assess your prescription and eye health, we can discuss which eye correction treatment is suitable for you, financing, and the next steps. Start your journey towards a clear vision that frees you from eyeglasses and contact lenses today.
Patients who visit Excel Laser Vision Institute, a LASIK clinic in Orange County, always say the same thing, "I'm sick and tired of having to wear glasses and contact lenses just to be able to see!" Most of these same patients are very aware of the very sought-after LASIK procedure. However, what about its close cousin, a PRK procedure?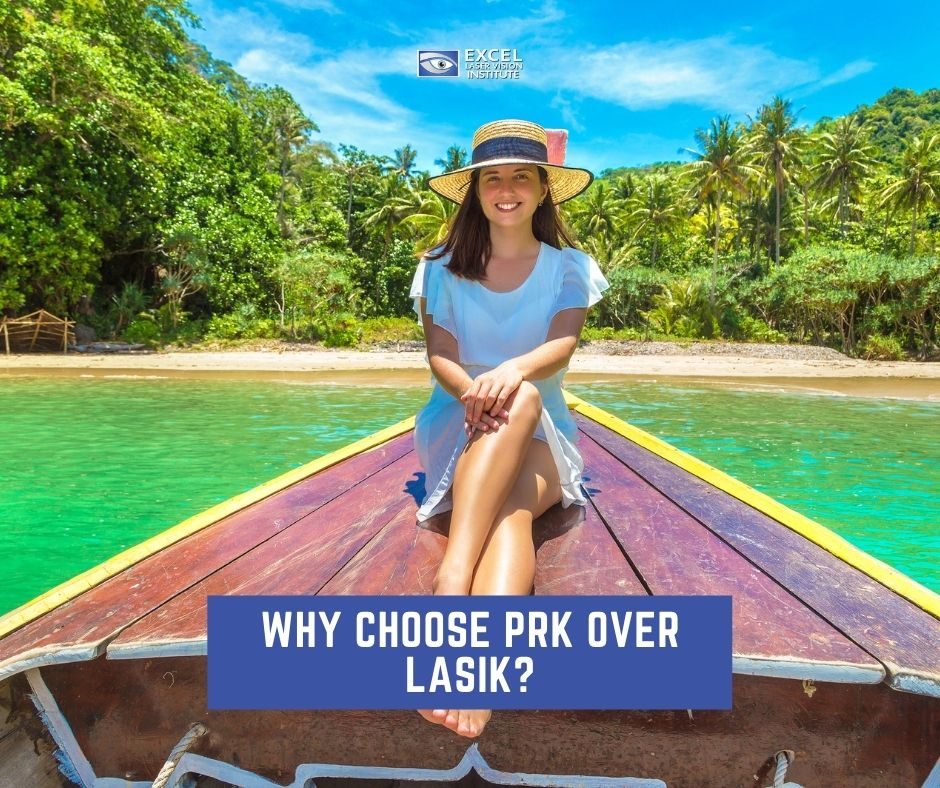 Patients' most frequent questions for Doctor Moosa, a premier LASIK surgeon in Orange County, are about the differences between LASIK and PRK. LASIK eye doctors in Orange County regularly perform both procedures with excellent results. They are very aware of what each patient really wants to find out is which approach would be perfect for them.
Why Would Your Eye Doctor Recommend PRK Rather Than LASIK?
When patients review LASIK eye surgery costs, they usually know someone who has had LASIK, but not PRK. 
Typically, when patients have their LASIK or Contoura consultation in Orange County, they are waiting for their eye doctor to let them know whether or not they are a suitable candidate for LASIK. In some cases, a LASIK eye surgeon in Orange County drops a bombshell during the consultation process by letting the patient know that they would find PRK more beneficial than LASIK. 
Various anatomical characteristics of a patient's corneas may make them better candidates for PRK over LASIK. For instance, such as corneal thickness (or thinness), corneal curvature, and corneal scarring all may be why your eye doctor recommends PRK over LASIK. 
How Are LASIK and PRK Similar?
Almost every eye care professional can agree that LASIK and PRK are both regarded as safe and effective laser vision correction procedures, provided that the patient is a suitable candidate. 
Both procedures utilize an excimer laser to correct vision. Since they have the same method of attaining enhanced vision without glasses or contacts, the final visual outcome for patients usually is very similar. 
In most cases, the excimer laser technology that your eye surgeon suggests for your procedure has the most significant effect on your chances of gaining 20/20 vision and the quality of that visual result than if the correction is carried out with the PRK procedure when compared to the LASIK procedure. 
LASIK and PRK usually have the same visual results since they both deal with a patient's blurry vision by changing the shape of the cornea using the cool energy of an excimer laser. The cornea is the structure located in front of the iris that has most of the eye's focusing ability. To give you a better understanding, this is the part of the eye where a contact lens is placed. 
If the cornea is the incorrect shape for the patient's visual system, the patient has blurry vision. In a nutshell, the excimer laser vaporizes microscopic quantities of tissue in an accurate, tailor-made pattern to sculpt the cornea and alter its shape to enhance the patient's vision.
You have to know the basics of what makes up the cornea to understand how LASIK and PRK work fully. To begin with, the cornea has five layers. The primary layer, known as the stroma, is the cornea's middle layer, which includes 90 percent of the cornea's thickness and it consists of collagen tissue fibers organized to make the cornea translucent and a high refractive index. These are two significant features of a focusing lens. 
The cornea's outermost layer consists of a layer of translucent epithelium tissue (skin) to protect the cornea from the environment.
Similar to the skin tissue on other parts of the body, the epithelial layer of the cornea grows back if it is removed or damaged; however, the collagen tissue that forms the stroma does not.
In the LASIK and PRK procedures, the excimer laser sculpts the stromal layer of the cornea, giving a permanent change to the shape of the cornea. When the shape of the cornea is altered correctly, the light that enters the patient's eye is focused more accurately for enhanced vision and without glasses or contact lenses.
How Are LASIK And PRK Different?
Although LASIK and PRK usually have the same end visual results, they are performed differently, which allows each procedure its own series of pros and cons when compared to one another. 
In some instances, a patient may only be suitable for LASIK or only a candidate for PRK. In other cases, the patient can be a candidate for both procedures and may opt for the procedure they would prefer the most. 
The disparity between the procedures is how the eye surgeon accesses the cornea to alter its shape with the excimer laser. The epithelium (skin) tissue that covers the cornea must be removed or temporarily taken out of the way before the excimer laser's energy is applied to the cornea so that the excimer laser sculpts the layer of the cornea that does not reappear. The way the laser and eye surgeon gets rid of the skin tissue in the first step is called PRK, and the method that briefly pushes it out of the way is called LASIK. 
Who Are PRK Candidates? 
If a patient has thin corneas, they are not suitable LASIK candidates. However, they can opt for PRK. Individuals with large pupils may find PRK a better option, which is also the case for those with irregular astigmatism. Moreover, if you suffer from dry eyes and want to improve your vision, your eye surgeon will recommend PRK. 
Athletes in contact sports may go for PRK. Also, patients in physically demanding jobs may choose PRK since the nature of such sports and work intensifies the risk of flap complications.
As with either procedure, candidates must be at least 18 years of age and have a stable vision prescription for at least one year.
If you want more information about PRK and whether you are a candidate for the procedure, contact Excel Laser Vision Institute and schedule a consultation with Dr. Ferzaad Moosa. He and his highly experienced team will explain the procedure in detail and answer any questions you may have.