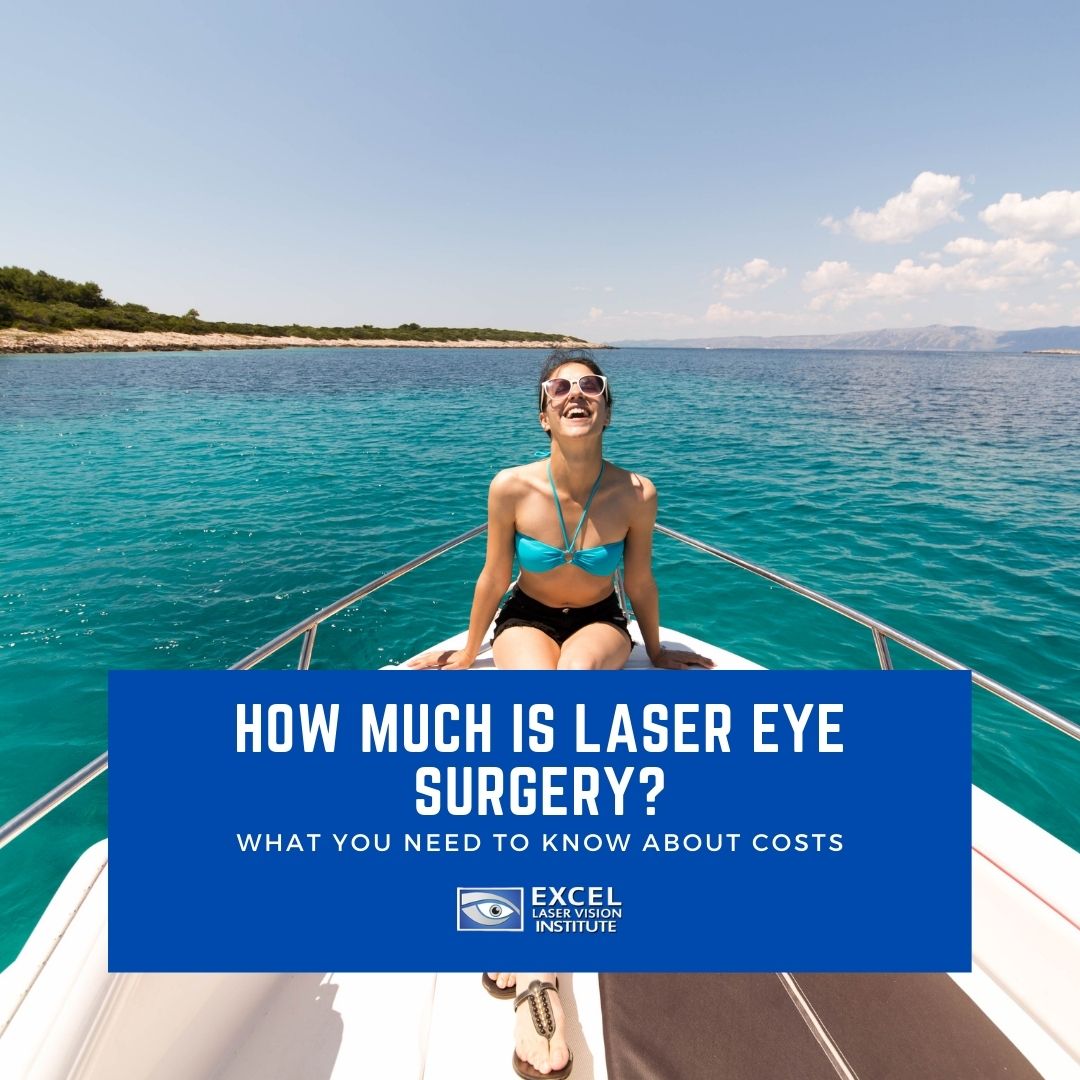 Cost is a critical factor to consider when undergoing any procedure. It is crucial that you understand where your spending is going as well as the reliability of the procedure in order to make an informed decision. That's why, when people visit the Excel Laser Vision Institute, one of their first questions is always, "How much is laser eye surgery?"
The cost of laser eye surgery can vary depending on the patient, clinic, and method. Whether you have a more complicated prescription or need a high-tech procedure, this can affect the overall price tag of your vision correction. However, almost every LASIK patient agrees that getting the surgery is more cost-effective and convenient than relying on contacts or glasses for the rest of their life. 
To help determine if refractive surgery is in your best interest, let's identify what contributes to the cost of Lasik operations and discuss the various financing options available today. Read on to find out why Lasik procedures are a valuable investment and why so many people choose to have them done.
Breakdown of Laser Eye Surgery Procedure Cost
Laser eye surgery costs typically vary based on whether one or both eyes will be treated and what kind of clinic will conduct the procedure. Obviously, if you are only getting one eye done, this will be half the price of the average cost. Also, the rates of different clinics and surgeons will differ depending on their level of expertise. In addition, the laser technology that will be used — "bladeless" All-Laser-Lasik or "custom cornea" Wavefront-guided Lasik— also has a significant impact on the final rate. In this case, cheaper is not better.
If you are going for a "cheap" LASIK clinic, then you will likely get "cheap" results. This is why it is important to think of laser eye surgery as a long-term investment. You may have to pay more upfront, but this will reduce your risk of complications and ensure a lifetime of benefits. So, when you are vetting LASIK clinics, make sure that you check out their reviews, testimonials, and statistics. The best clinics will be transparent about their success rates and will explain anything that you are confused about in terms of cost. These are the things that LASIK surgery typically includes in its price tag:
The pre-operative care of the patient

The surgery procedure, including the medications and technologies used

The post-operative examinations and care of the patient
Laser eye surgeons also provide comprehensive breakdowns of their operations during billing. They typically reveal these costs:
Compensation of the surgeon for performing the procedure
Acquisition and maintenance costs of the femtosecond and excimer lasers
Royalty fees paid for the use of the laser
Supplies used in the surgery procedure
Comprehensive eye examination
Office overhead, which includes the staff's salaries and benefits, rent, and administration
Patient acquisition, which includes the seminars and advertising conducted to get the patients
While this breakdown reveals a broader picture of what a laser eye surgery in Los Angeles involves, it is only a general outline. Get a more in-depth take of your operation costs from your Lasik clinic. You can also ask if there are any cost differences between the refractive surgeries they offer. For example, SMILE, PRK, and bladeless LASIK are all different forms of traditional laser eye surgery that they might offer. If you qualify for more than one procedure, then you may add cost comparison to the conversation with the recommendations of your surgeon. 
Eyeing Payment Options for Surgery
Most people choose their eye surgeon based on who falls under their budget. However, we strongly advise that you get the most trusted and highly recommended surgeon available for the best Lasik experience. While you may be paying more in the initial cost, you will save money over the long run by not having to get the procedure done a second time in the case that an inexperienced surgeon makes a mistake. 
At the Excel Laser Vision Institute, we have Harvard-trained Dr. Moosa at the front and center of our clinic. He has completed thousands of surgeries and has an extremely high patient satisfaction rate. Dr. Moosa is highly regarded in his field for his dedication to excellence. The best surgeons will use the best machines, which is how you know your procedure is the most advanced it can be. 
High-quality eye surgery can be costly that is why most eye clinics offer patient-friendly financing alternatives. Here at Excel Laser Vision Institute, we offer these payment options:
Cash – This is the easiest way of financing an operation.
Checks – These are the more convenient payment option compared to cash as they are less risky and cumbersome to carry.
Credit Cards – These are recommended for financing operations because of their installment options. We accept payments made with VISA, Mastercard, and American Express.
Care Credit – This is a special credit card designed specifically for health and wellness transactions. It covers out-of-pocket expenses which aren't included in medical insurance.
Wells Fargo Health Advantage – This is a special credit card program that allows you to finance health care bills through special drawn-up plans. You get a revolving line of credit that can be used at any time.
Depending on your personal situation, you may also qualify for some insurance relief through FSA or HSA accounts. As long as you qualified for laser eye surgery, our staff will do our utmost to help you afford the procedure. Payment plans with loan options are commonly chosen by many patients in order to split the cost over time.
Finance Your Eye Surgery without Breaking Your Budget
Don't let cost faze you when you ask, "how much is laser eye surgery?" Here at the Excel Laser Vision Institute, we ensure that you get the best deal for your operation. Our decades of experience have made us one of the most trusted names in the community. Schedule an appointment with us now at 866-923-9235 and get affordable and reliable laser eye surgery in Orange County and Los Angeles!