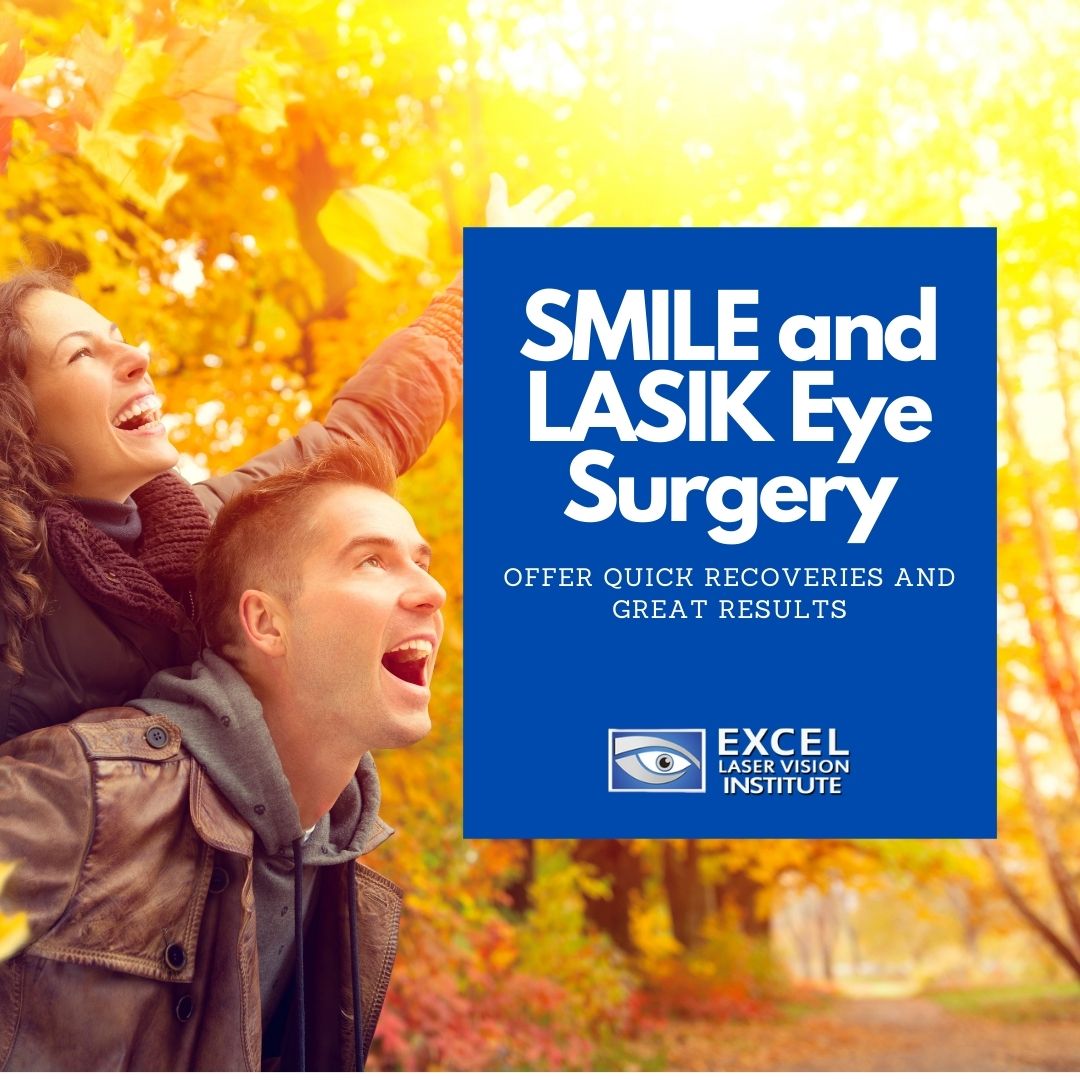 If you haven't been living under a rock, then you have probably heard of the innovative form of laser vision correction called ReLEx SMILE. It is a popular laser eye surgery at at LASIK centers in Los Angeles like Excel Laser Vision Institute because it combines many of the advantages of other types of laser eye surgery all into one. Patients love SMILE and LASIK eye surgery because of their ability to correct refractive errors. SMILE, in particular, is considered to be one of the most advanced laser vision procedures in the world. 

What Is A ReLEx SMILE Procedure?
A ReLEx SMILE procedure is a minimally invasive treatment to correct short-sightedness. Besides using ReLEx SMILE to treat short-sighted patients, LASIK surgeons in Los Angeles use this procedure to treat individuals that have high prescriptions, drier eyes, contact intolerance, and/or thinner corneas. In a nutshell, the revolutionary technology that is involved in a ReLEx SMILE procedure transforms Laser Eye Surgery into a keyhole procedure.

ReLEx SMILE, or sometimes just referred to as SMILE at LASIK eye center in Los Angeles, stands for Small Incision Lenticule Extraction. It is a less invasive method of correcting vision issues such as severe myopic that was previously only treatable with standard LASIK Laser Eye Surgery.

The procedure involves the eye surgeon to place eye anesthetic drops into the patient's eyes to completely numb them. At the LASIK Los Angeles clinic like Excel Laser Vision Institute, a state-of-the-art Carl Zeiss VisuMax laser distributes a series of precise pulses in the center of the cornea with exceptional 3D placement accuracy. These pulses create bubbles that are less than 1/100th of the width of a human hair. Also, it outlines the tissue that has to be removed to efficiently alter the shape of the cornea. Then the laser creates a tiny connecting tunnel in which the LASIK surgeon in Los Angeles extracts this tissue.
What Are The Side Effects Of ReLEx SMILE?
Right after a ReLEx SMILE or LASIK procedure, the patient's eye might feel a bit different than normal. The eyes may seem itchy, watery, and uncomfortable when you try to open them. However, this sensation only lasts about 24 hours until your eyes completely heal.
What Medications Will The Eye Surgeon Prescribe?
After a ReLEx SMILE procedure, the surgeon will prescribe antibiotic eye drops which will help to prevent infection. These eye drops should be administered as directed for the entire course of recovery, which is normally about 10 days.
How Fast Is The Recovery Process?
The great thing about a ReLEx SMILE or LASIK surgery recovery is that the physical healing process happens a lot faster than you might think. The advantage of this swift healing time means that you can get back to your normal activities such as swimming and outdoor sports after a few days of your ReLEx SMILE or LASIK eye surgery.
Also, you can get back to binge-watching your favorite Netflix shows, using your computer or laptop, and reading as you usually do within a day or two. However, your doctor will probably advise you to take regular screen breaks to prevent eye fatigue and to stop the eyes from drying out.

What About Driving After A ReLEx SMILE Procedure?
This is a major concern for many patients after any laser vision correction. In regards to a ReLEx SMILE procedure, many patients can get back to driving within 72 hours of their procedure. However, our competent staff at LASIK Los Angeles will be able to provide you with more specific advice relating to driving after a ReLEx SMILE procedure and this should be followed meticulously.
Is ReLEx Suitable For Everbody?
A surgeon will usually recommend the ReLEx SMILE procedure for short-sighted patients, especially those who have been informed that they were not suitable candidates for Laser Eye Surgery because of thin corneas, dry eyes, or contact lens intolerance.
What's The Difference Between ReLEx And LASIK?
ReLEx is the start of a new era in refractive surgery, based on its significant benefits in the patient's comfort. Since there is no requirement to pass from one instrument to another, as is the case in a LASIK procedure, the patient does not have to change their position. This is the fundamental reason why the procedure only takes a few minutes.
What Are The Benefits Of SMILE?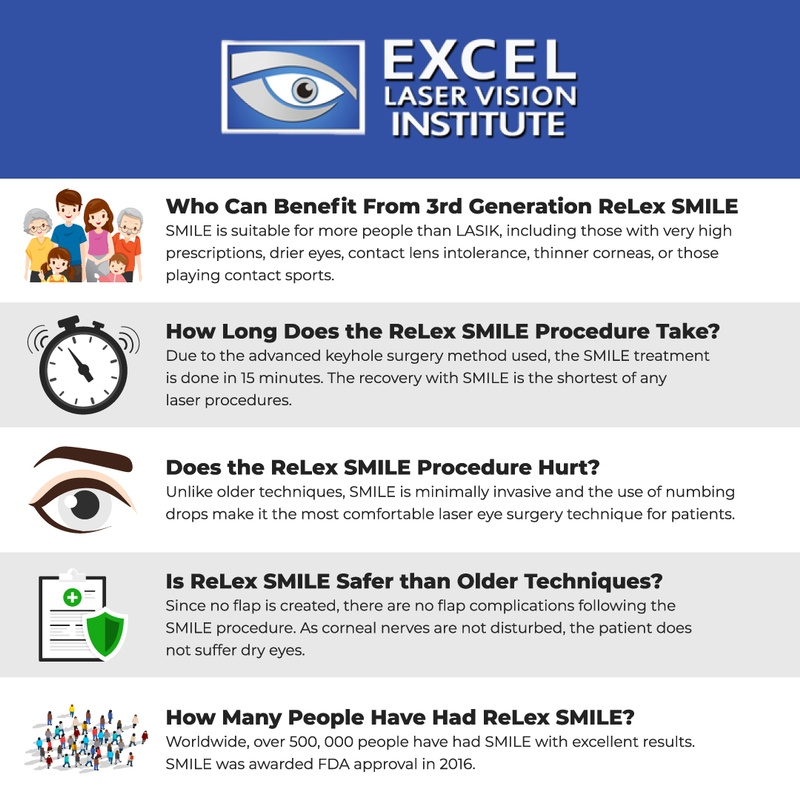 Studies have shown that patients who receive SMILE or LASIK in Orange County can achieve the exact same correction of nearsightedness and visual acuity. This means that SMILE offers the same benefits as LASIK without having to create a LASIK-style corneal flap.
In one study of 328 participants who underwent the SMILE procedure, all but only one had uncorrected visual acuity (UCVA) of 20/40 or better following surgery, and eighty-eight had CVA of 20/20 or better.
Additionally, it seems there may be less risk of dry eye symptoms following a SMILE procedure, compared with LASIK. There could be various reasons for this, including the fact that the SMILE procedure occurs within the cornea without a large corneal flap, fewer corneal nerves are disturbed by the procedure.
The very tiny SMILE incision can give the cornea more biomechanical stability after SMILE, compared with its capability to keep shape after LASIK.
Ultimately, for the correction of immense amounts of nearsightedness, with LASIK there is more of a possibility of a patient requiring an enhancement procedure to achieve the clarity of vision wanted without glasses.
There seems to be less of a risk of requiring an extra procedure after SMILE for correction of high amounts of myopia, which could be because there is less dehydration of the cornea that happens during the SMILE procedure.
In summary, SMILE is an innovative eye correction surgery that provides these advantages:
There is no risk of corneal displacement since a corneal flap does not form.
A patient can improve their optics without touching the central part of the cornea, which plays a vital role in vision.
A small incision that is only a few millimeters in length is more than 80% smaller than the incision needed for LASIK methods.
The nerves that control the formation of tears are completely preserved, so the risk of developing dryness in the eye is minimal.
Both the laser procedure and recovery are painless.
If you want more information about getting ReLEx SMILE or LASIK in Los Angeles, do not hesitate to give Excel Laser Vision Institute a call at (818) 907-8606, or fill out our contact form today!

If you have vision problems, then you may be looking into procedures like SMILE, LASIK eye surgery, and PRK. All of these are known for correcting refractive errors, but SMILE is the most significant advanced method of eye surgery technology that has been developed in the last ten years. Dr. Moosa, a top LASIK surgeon in Orange County says that SMILE is a one-step, one laser procedure that is considered even less invasive than LASIK!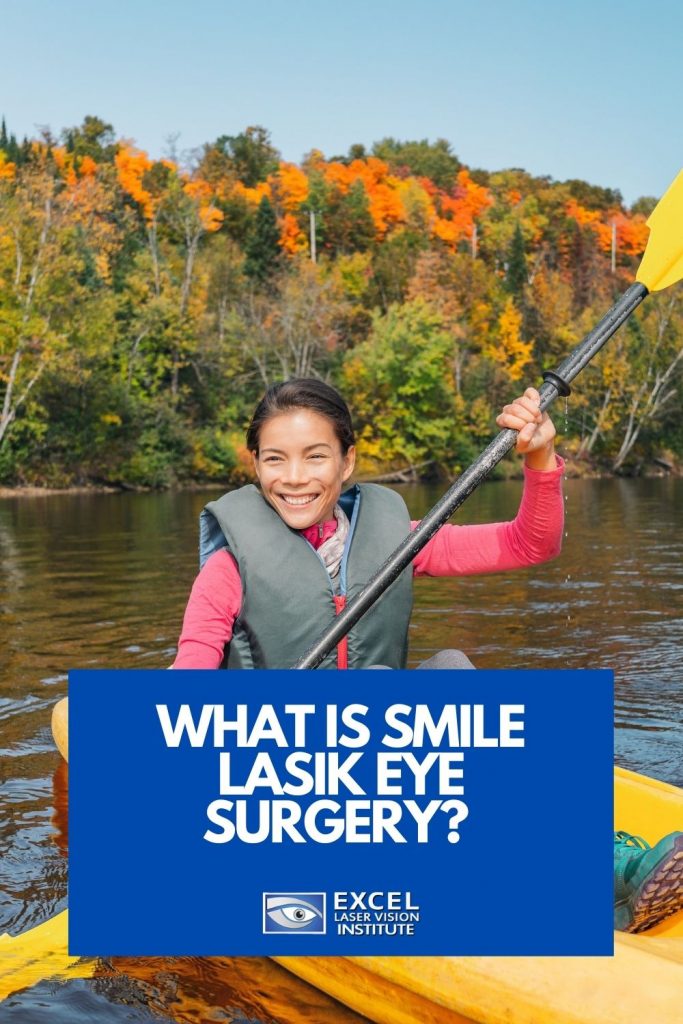 What Is a SMILE Procedure?
First of all, SMILE is an acronym for "Small Incision Lenticule Extraction". Also, it is the latest advancement in laser vision correction. According to Dr. Moosa, one of the leading SMILE and LASIK surgeons in Orange County, the SMILE procedure is an innovative laser eye surgery that is perfect for correcting myopia (nearsightedness). 

The SMILE procedure is really easy and straightforward since it is a one-step laser eye surgery, generally performed by a VisuMax laser, which is non invasive. When your eye surgeon performs a SMILE procedure, he or she will use a computer-guided, highly focused light to cut a small incision in the cornea and will remove a tiny piece of corneal tissue, which is known as a lenticule. This helps to reshape the cornea and correct your vision.

This vision procedure combines the safety of already established vision correction techniques with more comfort and the possibility of greater accuracy.

SMILE is an Accurate Procedure
As Dr. Moosa of SMILE LASIK Orange County clinic explains, the cornea is made up of five layers. If the patient has eyesight focusing issues, the eye surgeon corrects this by only reshaping the stroma, which is the middle layer. The SMILE laser operates to apply several tiny bubbles to make the base of the lenticule, located in the lower part of the stroma, and then the top of the lenticule, which is situated in the upper part of the stroma.
The surgeon forms a small keyhole incision so they can access the stroma to remove the targeted piece of tissue to correct the patient's vision. In just a matter of seconds, the cornea has been reshaped and the patient should receive excellent visual results. In short, SMILE vision correction is a pain-free keyhole procedure that a surgeon performs using a single advanced Zeiss laser. 
SMILE Is Comfortable And Easy

SMILE doesn't take too long since the actual laser part of the procedure is fast and completed in twenty-five seconds. SMILE is a very comfortable procedure. The tiny incision in your cornea generally heals in a couple of days and no stitches are required.  Although not everyone experiences the exact same result, the majority of our patients have reported feeling amazing and being able to see better as soon as the very next day. 
What Are The Benefits Of SMILE?

It is a less invasive surgery

Patients love SMILE because it is a less invasive procedure when compared to LASIK or PRK. During the LASIK procedure, the surgeon creates a flap to correct the patient's vision, this flap is 20mm in circumference. During a PRK procedure, an 8mm diameter surface removal is made to correct vision. However, during a SMILE procedure, the surgeon only has to create a 3mm keyhole incision in the patient's cornea. This tiny incision provides less disturbance to corneal nerves and more corneal stability after surgery.

No Flap Surgery

One of the disadvantages of the LASIK procedure is the formation of a permanent flap of corneal tissue. During LASIK, the surgeon creates a small flap of corneal tissue using a femtosecond laser which he or she folds back.

Then the surgeon uses a second laser, which is called an excimer laser to reshape the underlying corneal tissue and correct the patient's vision. As a result, it is a more complex procedure than this new vision procedure, SMILE.
Additionally, it is good to know that LASIK is a very safe and reliable procedure.

Complications hardly ever occur, however when complications do arise, they are usually 'flap related complications' and are a result of the flap created during surgery. Considering the surgeon doesn't have to create a flap during a SMILE procedure, there is definitely no risk of flap related complications.
SMILE enables people to have a safe and accurate procedure with a quick visual recovery.
If you're wondering about SMILE LASIK surgery recovery, ophthalmologists have found that SMILE provides faster visual recovery since it only takes around one or two days to deliver optimal results. Plus, it's just as accurate and safe as traditional LASIK. 
SMILE is quiet, odorless, and blade-free

During the LASIK and PRK procedure, the surgeon uses a second laser called an excimer laser. Anyone who has done a LASIK or PRK procedure can confirm the loud 'clicking' noise the laser creates when used, which can be unsettling for some patients.

Additionally, the excimer laser is known for a distinct odor during a LASIK procedure, since it is used to vaporize corneal cells. On the other hand, SMILE does not use an excimer laser. Therefore the procedure is not only quieter, but odorless as well.
Less probability of dry eye syndrome

Some patients have dry eyes as a side effect of laser eye surgery. An advantage of SMILE is that it can lower the chance for dry eyes to occur. Since SMILE only consists of a tiny incision created in the cornea, there is only a slight possibility of dry eyes post-surgery.

If You are Not a Good LASIK Candidate, SMILE Might be an Alternative For You

In some cases, an eye surgeon will find that the patient is not suitable for LASIK. The three most common factors that make a patient not eligible for LASIK are the following:
Patients who play action sports or have jobs with a lot of direct contact to the eyes such as fighters, boxers and so on.
Susceptibility to dry eyes or chronic eye syndrome.
Irregularly shaped or thin corneas.
To ascertain if a patient is suitable for a SMILE procedure, the optometrist will examine the patient's eyes in the following way:

Check the general health of the patient's eyes
Measure the cornea
Check the pupil size
Measure the amount of nearsightedness
Consult with your refractive surgeon for the SMILE, LASIK eye surgery, or PRK procedure that works best for you. Once you have an in-depth consultation, you will have a better idea of your eligibility. If you want further information about PRK, SMILE, or LASIK in Los Angeles, fill out our contact form or give Excel Laser Vision Institute a call at + (818) 907-8606 today.