Any LASIK surgeon in Orange County can straight out tell you that laser eye surgery is one of the most frequently performed elective procedures in the whole wide world! LASIK offers an effective solution for nearsightedness as well as farsightedness. 
Furthermore, recent advancements in LASIK technology in Orange County have resulted in better vision even for those who are affected by higher-order vision aberrations, for instance, halos and astigmatism. Remarkably, that is the result of a just 10-minute procedure. 
What Is LASIK? 
Before an eye surgeon starts the LASIK procedure, he or she will prepare the patient by administering anesthetic eye drops in the eye that will be treated. When the eye is numb, the surgeon inserts a plastic instrument called a speculum to hold the eyelid back and keep the eye open. 
The LASIK surgeon in Orange County performs eye surgery by creating a very thin flap on the surface of the patient's eye, using surgical lasers or manually with high precision tools. Then, the eye surgeon delicately lifts up this flap which allows him or her access to the cornea to reshape it with a computer-driven laser. 
By reshaping the cornea, the ophthalmologist corrects the refraction of light as it passes through the eye. This allows the retina to transmit sharper, more accurate images to the brain. The computer-controlled laser that the eye surgeon uses vaporizes tiny pieces of tissue from the cornea to reshape it. For shortsighted patients, the cornea is slightly flattened out. Longsighted people will have their cornea reshaped to be a little steeper, while those suffering from astigmatism will have their cornea shaped to be rounder. 
When the surgery is done, the LASIK surgeon in Orange County will gently place the flap back down, where it will begin to heal naturally on its own. The ophthalmologist will give the patient eye drops and medicine to help them manage any discomfort they may experience during their recovery period. 
What Are The Popular Laser Eye Surgery Procedures?
When laser eye surgery was still in its infancy, Photorefractive Keratectomy (PRK) was the first procedure performed. Since then, LASEK (laser epithelial keratomileusis) and LASIK (laser-assisted in-situ keratomileusis has been introduced.  
During a PRK procedure, the eye surgeon scrapes off the epithelium, which is a thin outermost layer of the cornea to reveal the cornea. In LASEK, the epithelium is not removed; alternatively, the surgeon creates a flap in the epithelial layer and pushes it to the side. In the meanwhile, LASIK involves the eye surgeon to create a flap to expose a deeper part of the cornea. 
What Are The Statistics?
If you have needed to use glasses or contacts your entire life to take part in your daily activities, you may have wondered what it would feel like to wake up every morning and see clearly throughout the day without them!
It is nice to have a life that is with no frustration and struggles with vision problems. However, this might seem all too good to be true for many individuals who are trying to find the catch. So, we have found some statistics which show that LASIK surgery is as impressive a procedure as it's made out to be.
About A 99% Success Rate
Although the definite amount of vision correction can never be guaranteed, when the word "success" is used to talk about the outcome of a LASIK procedure it defines at least some level of improvement in a patient's vision. 
Based on details from the Journal for Cataract and Refractive Surgery, success rates are marginally higher when patients just need a small measurement of correction. Although, this margin is very minuscule, and many patients with serious vision problems appreciate much sharper, clearer vision after the surgery. 
In most cases, LASIK has a very high success rate with patients who have mild to moderate prescriptions with about eighty percent achieving impeccable vision. However, individuals who suffer from more severe visual impairments might get mixed results, even though at least forty percent have claimed to achieve 20/20 vision. 
Expect 90% of Patients To Have 20/20 or 20/40 Vision After LASIK
Statistics show that seven out of ten LASIK patients have 20/20 vision after a LASIK procedure. Also, even patients who cannot attain 20/20 vision through LASIK will usually reap the benefits of at least 20/40 vision after the procedure. 
Still, a very impressive outcome and is the minimal amount of vision needed to attain a driver's license in many states. Over ninety percent of LASIK patients can take advantage of vision that is anywhere between 20/20 and 20/40 after surgery. If the surgery was an incredible success, a patient can enjoy 20/15 vision!
Ninety-Six Percent Of Patients Are Satisfied After Surgery
The high number of patient satisfaction is not restricted to patients in the United States since researchers from the American Society of Cataract and Refractive Surgery tested 19 different LASIK reviews worldwide to figure out the complete satisfaction rate. 
Whenever you go through any procedure, you want to be happy with the results. This is highly probable with a LASIK procedure. About 96 percent of patients are satisfied with their LASIK surgery results. This number makes it easier to go forward with LASIK surgery with confidence. 
Over 10 Million Americans Have Had LASIK Surgery
Based on data from the American Academy of Ophthalmology, many patients get LASIK surgery annually. The total number of LASIK patients is anticipated to increase, especially as the economy grows and technological advances let eye doctors focus on a broader range of vision problems.
Overall, over ten million patients in the United States have received LASIK. The extensive popularity of the procedure shows clearly that LASIK surgery is very safe and effective. 
Over the years, laser eye surgery has dramatically advanced to provide patients great enhancements with their eyesight. LASIK is a very effective permanent solution for various ranges of refractive errors. 
Furthermore, it is painless and the recovery period is very short. A majority of laser eye surgery patients attain 20/20 vision or even better. However, the results vary depending on a patient's prescription. 
If you want more information about LASIK surgery, do not hesitate to give Excel Laser Vision Institute a call at (866) 923-9235, or fill out our contact form today!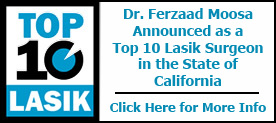 Request a free lasik consultation
[ninja_form id=6]