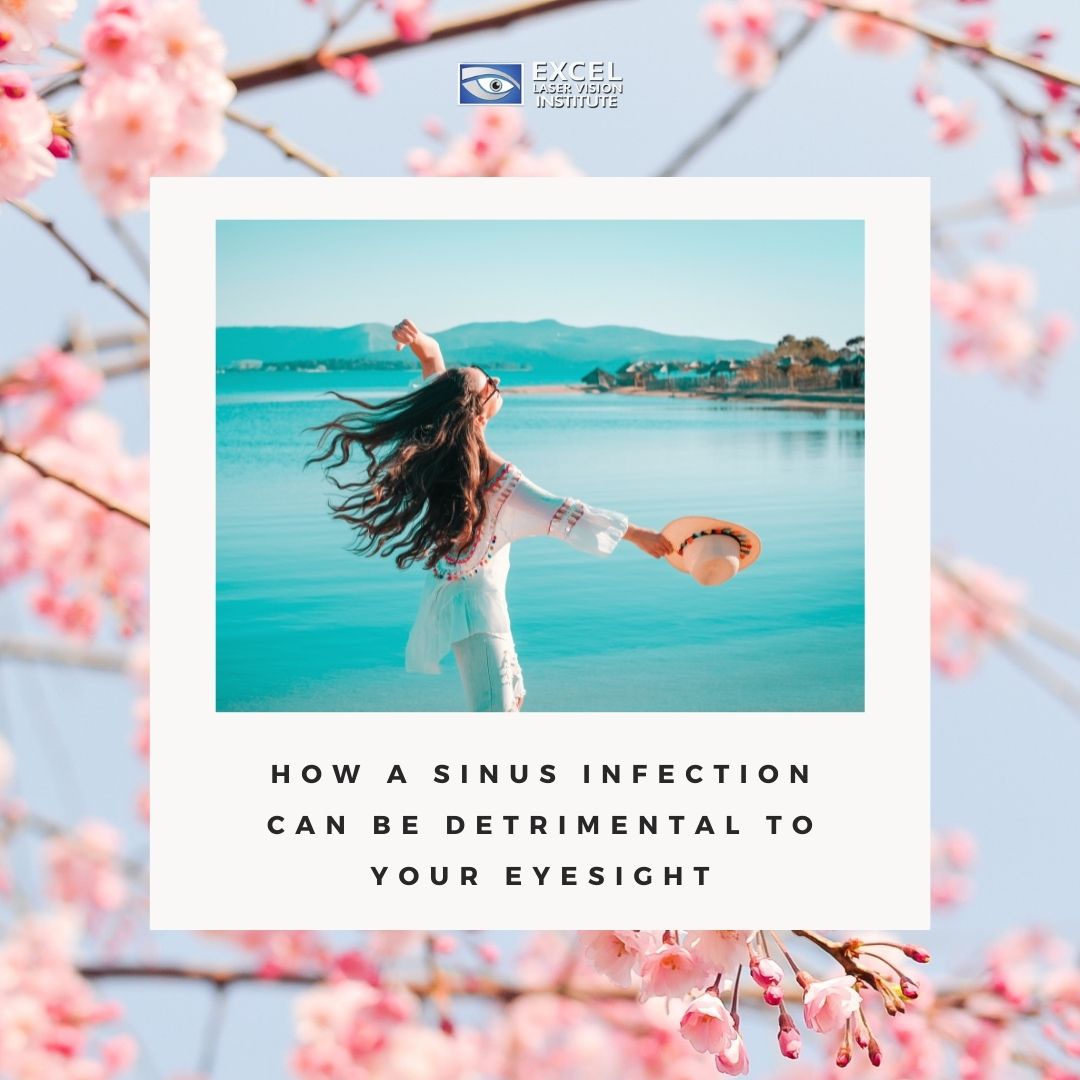 When you get a sinus infection referred to by doctors as sinusitis, naturally, you are most likely to be concerned with how your nose and your head feel. It is normally caused by seasonal allergies, with over 3 million cases each year in the United States. It normally means no need for panic; however, this relatively brief illness can also negatively impact your eyesight, even if you do not experience any pain. Our Los Angeles LASIK team wants you to understand how you can better take care of your eyes if you are more prone to bouts of infections such as these.
There are 3 types of sinus infections that we should be familiar with:
Acute sinus: The symptoms are present for 4 or fewer weeks.

Subacute sinusitis: The symptoms last between 4 to 8 weeks.

Chronic sinus: The swelling of the sinus has been occurring for more than 3 months. Medical attention is necessary.
The most predominant symptoms of sinus infection include:
Basic congestion

Cough

Facial pain or pressure

Fatigue

Headache

Heavy eyelids

Mucus dripping down the throat

Pressure alongside the temples

Runny nose

Sore throat

Stuffy nose

Unpleasant breath
Now, while sinus infections rarely stay for the long haul, the big and quite unfortunate catch is that a more serious case of the illness can actually bring about permanent damage to your eyes. Since your sinus cavities can swell as a result of sinus infections, which are located in the bones around your nasal passages around your eyes, naturally, it can cause them to become irritated. This potential permanent damage to your eye socket can result in either blurred vision or even blindness, and unfortunately, Los Angeles LASIK eye surgery is not equipped to treat these conditions.
How to Treat a Sinus Infection
Depending on the severity of your symptoms, a variety of treatments may be necessary. You may be able to take over-the-counter antibiotics, saline nasal spray, or allergy medication if you are experiencing acute sinus. If you find that these methods aren't working even after a few weeks, then you might be experiencing a more serious form of the illness and should consult a doctor before it's too late. Be clear with your doctor if you are experiencing any pain or discomfort in any area of your body so that the problem can be properly assessed and diagnosed. 
How to Prevent Your Chances of Getting Sinusitis
Drink an adequate amount of water each day

Clear excess mucus from your passages by running water through them once a day

Inhale steam

Avoid dry environments when possible

Avoid contact with others who are ill
Once you are healthy again, if you are interested in undergoing LASIK in Los Angeles, go ahead and reach out to our Encino office at (310) 905-8622. Our Harvard-educated and trained physician, Dr. Moosa, as well as his committed team, can make your dream of a clear vision a reality. Schedule your free consultation appointment with us to discuss the specifics of your procedure, including LASIK eye surgery cost as well as the outcomes. Our Los Angeles LASIK center has proudly accumulated more than tens of thousands of satisfied patients accumulated over the last 23 years, and you are bound to become one of them!
Related Posts