Many eye doctors will tell you that eye allergies will affect many people at some point in their lives. Still, unfortunately, some people will suffer more than others when it comes to eye allergies, particularly during the Spring through Fall months. Most ophthalmologists specialize in treating many eye conditions and serve the requirements of individuals looking for eye care.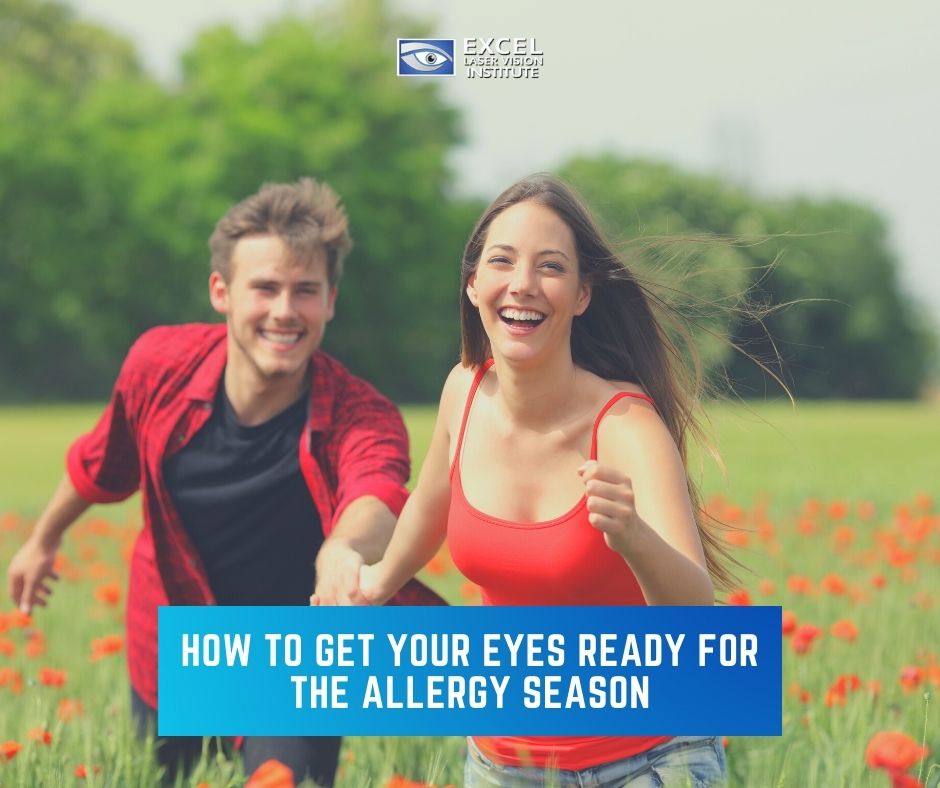 The warmer weather and longer days bring some dangers to your eyes and vision. The springtime bloom causes red, swollen, and itchy eyes. Also, there's an increase in sun damage because of sun exposure, so it is important to protect your eyes this spring season. 
What Are Common Eye Allergy Symptoms?
 While the pollen, dust, and dander start a ruckus outside, so do your allergies. Although some people just suffer from sneezing or maybe even sometimes a stuffy nose, others experience allergies that affect their eyes, which makes springtime a horrible moment for them. 
If your eyes become so red and itchy that you notice a puss-like discharge from your eyes, you should get an eye exam immediately. In fact, it is not uncommon for people to mistake an infection for allergies. 
However, with the right precautions, you can reduce the discomfort of increased allergens and sun exposure. Here are some handy tips to follow this Spring for healthy eyes.  
Common Eye Allergy Symptoms
Redness

Burning

Itching

Clear or watery discharge

Blurred vision
What Causes Seasonal Allergies?
So many things, from dust to perfume to pet dander, can cause allergies, and they aren't always restricted to a specific year. Nevertheless, Spring and fall are usually worse because of the pollen. Some plants such as grass pollinate in the Spring, while others such as ragweed pollinate in the fall. 
During these months, the air becomes full of tiny floating particles that can get into our eyes and airways which causes irritation. If you are a person with an overactive immune system , you will probably experience symptoms such as itchy eyes, congestion, and persistent sneezing. 
The most common triggers of eye allergies include:
Outdoor Allergens – Pollens, mold, and dust from trees, weeds, flowers, and grass.

Indoor Allergens – Pet dander, mold, dust mites, and indoor plants.

Irritants include perfumes, cigarette smoke, cosmetics, eye drops, or exhaust fumes.
To be clear, food allergies and insect bite allergies do not affect the eyes like airborne allergens.
How Do Eyes Respond To Allergens?
Normally, allergy symptoms include redness, itchiness, and watering of the eyes. Sometimes it comes with a gritty feeling, swollen eyelids, a burning feeling, and increased discomfort with contact lenses. You can ease these symptoms with decongestants since they help with respiratory symptoms. However, a side effect is sometimes that they dry the eyes out, making the eye symptoms worse and leaving the eyes more susceptible to airborne irritants. 
How To Protect Your Eyes This Spring?
A good way to protect your eyes this Spring is to reduce your exposure to the dander, dust, and pollen that causes red, swollen, and itchy eyes. Allergens can appear any time of the year but really intensify in the Spring. These tiny floating particles get inside your home and rapidly irritate your eyes. 
Here are some methods to lower allergens inside your home:
Take a look at your HVAC system and make sure the air filters are working and clean.

Routinely clean your home by mopping, sweeping, and dusting.

Do your best to keep your windows closed as much as possible. 

Don't place fans near windows that could blow pollen inside.  
Wearing Clean Clothes Helps
Clothes attract airborne pollen and dust particles, and they attach themselves to your clothing, shoes, shoelaces, hats, or anything that you are wearing. A good method of minimizing these allergens in your home is to wash your clothes regularly. Also, do not overlook cleaning your shoes too. 
Eye Drops Help To Clear Your Vision
Typically, dry eyes are one of the symptoms of pollen and dander allergies. Making sure your eyes are moist and flushed is the most effective way to avoid red, itchy, and dry eyes. 
You should use good quality preservative-free artificial tears or eye drops that help to lubricate the eyes to relieve you of allergy symptoms. Also, artificial tears are an excellent all-year-round product to have on hand if you are a contact lens wearer to prevent them from drying out. Occasionally medicated or prescription eye drops may be required to alleviate ocular allergies. 
It's best to visit your optometrist to first get diagnosed and begin the proper allergy medication to have your feeling brand new again. 
Wear Sunglasses
Sunglasses are more than just a fashion statement since the sun comes along with the warmer spring weather. The increased time outdoors exposes you to more allergens and more of the sun's harmful UV rays. 
Sunglasses protect the eyes by adding a barrier between the pollen floating around in the air and your eyes. The bigger the sunglasses you wear, the more protection you will have! Also, UVA/UVB sunglasses filter out harmful rays and make sure your eyes stay healthy. 
When dirty hands touch your eyes, it can cause infections as well as overall irritability. Plus, sunglasses lower how often you touch your eyes. 
If you wear prescription glasses, discuss with your optometrist about prescription sunglasses so you can see clearly as you protect your eyes. 
Wear Glasses Rather Than Contacts
Pollen and other allergens easily accumulate and get stuck on your contact lenses during the Spring. This can worsen your symptoms and extend your suffering. If you can, wear your glasses as much as you can to give your eyes a rest. You will lower the accumulation of pollen particularly when outdoors. 
If you can't remove your contacts or wear glasses, try cleaning them more than usual in an eye contact solution. This will get rid of any gathered allergens and lubricate them simultaneously. 
Go For Routine Eye Check-Ups
Last but not least, to make sure eye allergies don't spoil your spring season, you should schedule regular eye examinations with your eye doctor. If you are sensitive to allergy symptoms, an optometrist can use preventive measures to prepare you for whatever Spring has up its sleeve. 
Treatments For Common Eye Allergies
Swollen Eye
Swollen eyes or eye swelling occurs when the person suffers from a lack of sleep or has an allergic reaction. A swollen eye happens because of fluid retention in the eye, and it can be concerning and also very painful. You can sometimes treat a swollen eye at home. Nevertheless, if the eye condition becomes agonizing, chronic, or chronic, it is highly recommended that you visit your eye doctor immediately. 
Allergic Conjunctivitis 
This is a condition that happens when the eye becomes sensitive or inflamed, and can even be painful. The treatment of this condition needs both prevention and treatment. Individuals who suffer from very intense allergies that regularly cause this problem must avoid open-air during allergy season and have their allergy drops on hand and possibly other medications such as antihistamines. steroid eye drops may be needed for those with recurring conjunctivitis. 
Swollen Upper Eyelid 
Another common indication of conjunctivitis is that a swollen eyelid can be uncomfortable, but many prefer a swollen eye. Like eye swelling, those who develop this condition frequently need to take preventative measures to avoid allergens and be prepared with allergy eye drops and other medications.
Itchy Watery Eyes
Itchy eyes and watery eyes are typical symptoms of mild to moderate eye allergies. Watery eyes can be tricky if the wateriness is severe, especially if you have to operate machinery. Itchy eyes will usually be followed by watery eyes and can be really annoying. Simple medications such as allergy eye drops can help. It is mainly essential to avoid rubbing your eyes with your hands or with anything that may not be sanitary.
Your eye doctor at Excel Laser Vision Institute recommends using suitable products and medications to help relieve symptoms and prevent them from becoming more severe. Prolonged eye irritation can result in eye issues and infections if left untreated. 
So, don't put your eye health at risk. Book an appointment and get a head start on a clean, comfortable, and allergy-free spring season.