Patients undergo PRK and LASIK in Los Angeles for many reasons! Most want to throw their glasses and contact lenses away for good, because they are sick of them, are constantly misplacing them, or just hate having to wear them daily and are looking into getting laser eye surgery.
Our ophthalmologists performing LASIK in Los Angeles will guide you through the most popular procedures which are LASIK and PRK eye surgery. However, you should know the differences between these two laser eye surgery methods and their benefits.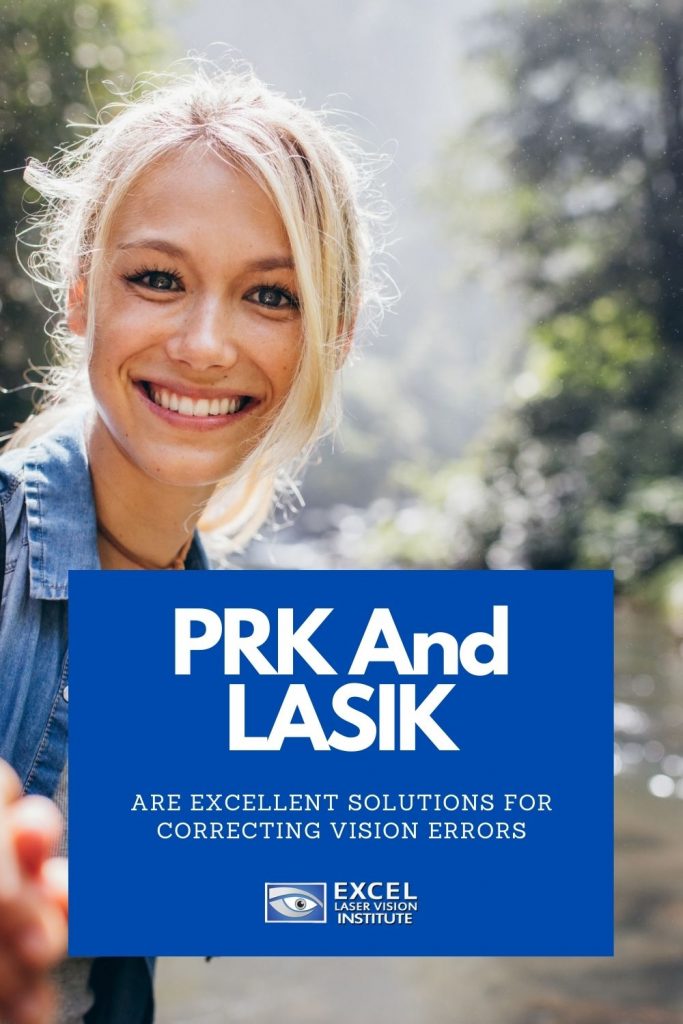 What Is PRK Eye Surgery?
PRK, or otherwise known as photorefractive keratectomy, is a type of refractive surgery at the LASIK eye center in Los Angeles. It is commonly used to correct myopia (nearsightedness), hyperopia (farsightedness) and astigmatism.
Did you know that PRK was the first type of laser eye surgery for vision correction and came before the well-known LASIK procedure? Although PRK recovery takes a tad longer than LASIK eye surgery, PRK is offered at Orange County clinics and provides advantages that LASIK cannot offer to some patients.
Similar to LASIK and other types of laser eye surgery, PRK works by reshaping the cornea using an excimer laser, which lets light enter the eye to be correctly focused onto the retina for clear vision.
What Is The Difference Between LASIK And PRK?
The primary difference between PRK and LASIK is the first part of the procedures.
During a LASIK procedure, a thin flap is created on the cornea using a microkeratome or a femtosecond laser. Then, the eye surgeon lifts the flap to reveal the underlying corneal tissue and fixes the flap back over the cornea once he or she reshapes it with an excimer laser.
On the other hand, during a PRK procedure, the thin outer layer of the cornea (epithelium) is removed and disposed of before the underlying corneal tissue is reshaped with an excimer laser. The epithelium has the ability to repair itself by growing back over the corneal surface within a couple of days after surgery.
LASEK is a variation of PRK and is also available at the LASIK clinic in Los Angeles.
Rather than discarding the outer epithelial layer of the cornea as is the case with PRK, LASEK consists of lifting the epithelial layer. The eye surgeon uses a surgical instrument called a trephine, he or she lifts the epithelial layer and preserves it during surgery and then replaces it on the eye's surface at the end of the procedure.
What Is The Difference Between PRK And LASIK Results?
The outcome of PRK surgery in Los Angeles is similar to LASIK results, but PRK recovery is slower since it takes a few days longer for new epithelial cells to reproduce and cover the surface of the eye.
Also, there is a small possibility of an increased risk of eye infection and fuzzy vision in the first few days after surgery. Furthermore, LASIK patients usually have less discomfort, and their vision improves more quickly, whereas vision recovery with PRK is slow and the final result can take several weeks.
Although PRK is a gradual recovery, it does provide some apparent benefits.
Since PRK surgery does not require the eye surgeon to create a corneal flap, which consists of both epithelial and the deeper stromal tissues, the whole thickness of the underlying stroma is possible for treatment.
This is really important if the cornea is too thin for LASIK or if you have done LASIK in the past and that is the reason for their thinner residual cornea. Also, there is no risk of flap complications, and the risk of taking too much cornea with the excimer laser is lowered.
What Are The Advantages And Disadvantages Of PRK?
To put everything is perspective, below is a list of all the pros and cons of PRK.
Advantages
This laser treatment doesn't go as deep as LASIK
Very good for patients who have a thin cornea
No risk of corneal flap complications
Lower risk of weakening corneal thickness
Disadvantages
Recovery is slower than LASIK
Optimal vision takes longer to achieve
A higher risk of post-surgery infection, inflammation, and cloudiness
PRK recovery is more uncomfortable than the recovery that is necessary after LASIK surgery
How Does A Surgeon Perform PRK Surgery?
The eye surgeon will first remove a central area of corneal epithelium using one of three methods: an alcohol solution, a "buffing" device or a blunt surgical instrument.
Afterward, an excimer laser is used to accurately reshape the curvature of the cornea's surface. An excimer laser is a computer-controlled and highly specialized laser that distributes pulses of cool ultraviolet light that removes microscopic quantities of tissue in an accurate pattern.
The surgeon places a "bandage", which is a soft contact lens on the patient's cornea to help protect the eye. New epithelial cells regenerate in around four or five days. After that time, the eye doctor removes the bandage contact lens from the patient's eye.
What Are The Long term Results Of PRK?
As mentioned before, PRK and LASIK outcomes are very similar. Many patients achieve 20/20 vision after the procedure, and almost all patients receive 20/40 visual acuity or better.
If you are not happy with your vision after your eyes have completely healed, you may want to have a follow-up or "enhancement" procedure to further improve your eyesight.
Alternatively, you can wear eyeglasses for specific tasks as required.
If you experience sensitivity to light after PRK, eyeglasses with photochromic lenses can offer relief.
Furthermore, if you have a slight residual refractive error after surgery, low power prescription lenses with anti-reflective coating can usually sharpen your vision for activities such as driving at night.
Post-operative PRK and LASIK complications are unusual and can comprise of infection and starbursts or halos around lights or at night.
You may find that you still require reading glasses after PRK surgery when you reach your 40s, because of age-related vision loss, which is known as presbyopia.
Although LASIK is the most popular laser vision correction surgery, you should follow your eye doctor's advice and guidance on whether PRK or LASIK is the most suitable procedure for your requirements. If you want further information about LASIK or PRK, give Excel Laser Vision Institute a call at + (818) 907-8606 today.