As the rise of COVID-19 is threatening the safety of communities all over the world, it is becoming increasingly important for individuals to have access to accurate information about the spread of the disease as well as preventative measures that should be taken. LASIK Los Angeles clinics, specifically Excel Laser Vision Institute, are reaching out to eye patients to explain how exposure to the coronavirus is related to eye care.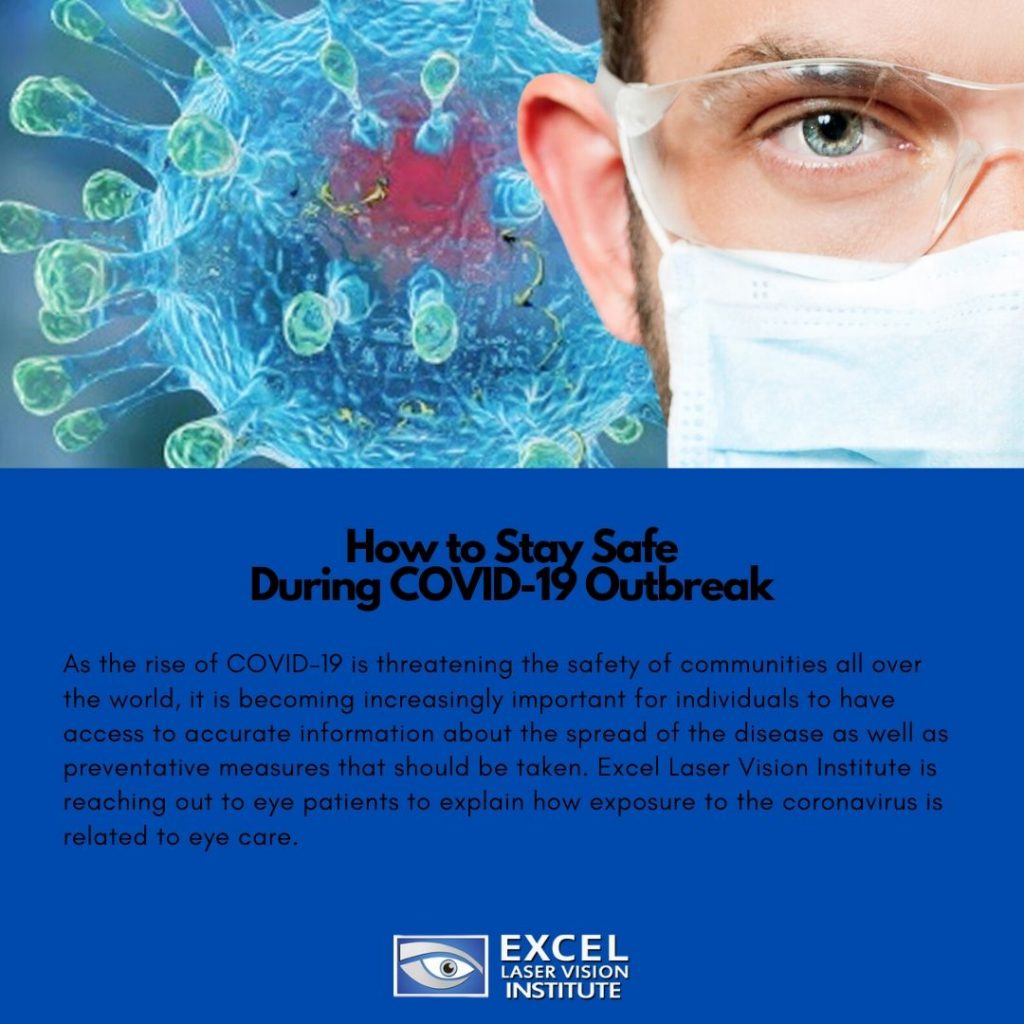 COVID-19 is a respiratory disease that can be contracted through the eyes as well as the nose, mouth, ears, etc. The most common symptoms of the disease include fever, cough, and difficulty breathing. These symptoms usually appear between 2 and 14 days after a person has contracted the illness. People with the virus can develop serious infections, contract pneumonia and, in the worst cases, even die. This is why the LASIK eye center in Los Angeles like Excel Laser Vision Institute says it is important to remain vigilant and minimize all avenues of exposure.

Someone who has the coronavirus can spread it to other people through leaving trails of microscopic particles that contain the virus. This can happen when the person coughs or wipes their nose and then touches a surface that someone else may come into contact with. Many doctors are advising people to avoid touching their face and cleaning surfaces often in order to avoid these pesky infected particles. LASIK Los Angeles clinics are telling their patients that COVID-19 can be spread through eye fluid, which is why it is so important to practice safe eye care during this outbreak.

In order to slow the rate of infection, many clinics are limiting the amount of patients that can come in for appointments. With more restrictive policies, clinics are able to minimize doctor-patient contact and thus reduce the risk of exposure. In addition to this, clinics are trying to preserve necessary medical tools like masks and face shields in case of emergencies. Most in-person appointments are being rescheduled for a later date in order to follow safety recommendations.

Many eye doctors will still be available through phone consultations so, if you are experiencing any serious symptoms, please call for professional advice:

Sudden changes in vision (blurry, blank spots, or waviness)
More floaters than usual and flashes of light
Loss of vision
Red eye, pain, headaches, nausea, and vomiting
If you require regular injections for diabetic retinopathy, macular degeneration, or any other eye condition, speak to your eye doctor about changes to your appointment routine. In the case where you absolutely must visit a clinic, please practice social distancing. Many clinics will likely have new requirements to limit the risk of exposure. Here are some of the ways in which your in-person visit may be different in the time of COVID-19:

You may not be allowed to sit in a waiting room. Some clinics are having patients wait in their car and be summoned by phone instead of sitting close to strangers. Other clinics have lines set up outside with lines of tape (6 feet apart) where patients can wait.
You may need to go to your appointment alone. Many clinics are trying to limit the amount of people in the office. So, if you do not require someone to help you with your appointment, then it is best to go alone.
Your eye doctor may look different. Clinics are trying to best prepare their doctors for the risk of interacting with patients by requiring more protective gear. You may see your doctor using a new face shield or mask to protect their face.
You may have a quieter appointment. Some doctors are asking their patients to refrain from opening their mouths until the examination is finished. Then, they will allow for questions. This is to ensure that doctors are not exposed to patients while up close in examinations.
In-person appointments should be avoided, especially if you are exhibiting signs of COVID-19. Thankfully, many clinics have set up successful virtual appointments where patients can consult their doctor over the phone and video chat.

While COVID-19 is a new disease that scientists, researchers, and medical professionals are still trying to understand, there are some definite ways that people can protect themselves. Here are some recommendations from LASIK Los Angeles clinics particularly Excel Laser Vision Institute:

Avoid contacts and wear glasses instead. People who wear contact lenses on a regular basis know that this method of vision correction requires a lot of finger-eye contact. It is best to avoid touching one's eyes in order to limit the amount of virus exposure. Wearing glasses will allow people to achieve their desired vision without the risk of eye contact.
Glasses can be used as a sort of eye shield. Even for those who do not necessarily need corrective lenses, glasses can be used as a way to block the coronavirus particles from entering your eye. Like wearing safety goggles, this is just one way to minimize exposure.
Try to obtain your prescriptions in advance. For those who require regular eye medication or drops, it is important to keep a healthy supply in the case of quarantine. There are also some methods of prescription delivery that may be available depending on your insurance.
Do not rub your eyes. It can be tempting to do this, especially when you are told not to, but it is important to follow this rule in the case of a pandemic. When feeling an itch, try to use a clean tissue instead of your hand. If you absolutely have to use your fingers, then make sure to wash your hands for 20 seconds before and after.
Follow good hygiene practices. This includes thoroughly washing your hands with soap and water for 20 seconds every time you come into contact with new, unclean surfaces or environments. You should always clean your hands after sneezing, coughing, blowing your nose, using the restroom, and before eating. In the case where you do not have soap and water available, carry around a sanitizer with 60% alcohol. Good hygiene also includes not touching your face, covering your coughs and sneezes with an arm or tissue, avoiding sick people, staying home, and disinfecting everyday surfaces and objects that you use.
Related Posts