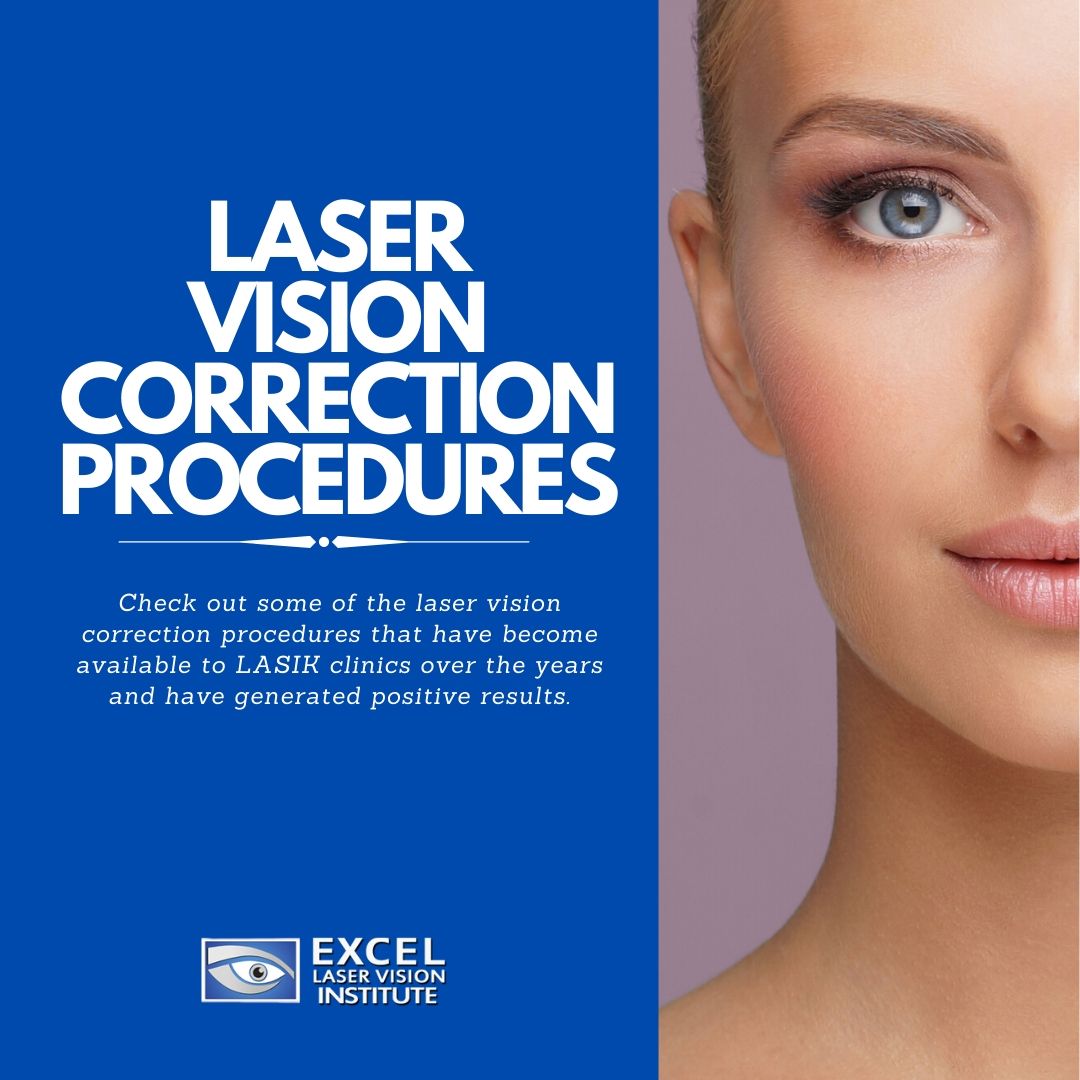 Many people have heard of LASIK eye surgery as an option for vision correction because it is so widespread. However, most people do not realize that there are other successful laser correction procedures that clinics will perform as an alternative. LASIK Los Angeles clinics like Excel Laser Vision Institute offers an array of procedure choices that differ slightly in method but achieve the same goal: better vision for the patient. The advantage of having access to different laser machines and surgery techniques allows surgeons at the LASIK eye center Los Angeles to customize treatments to each individual.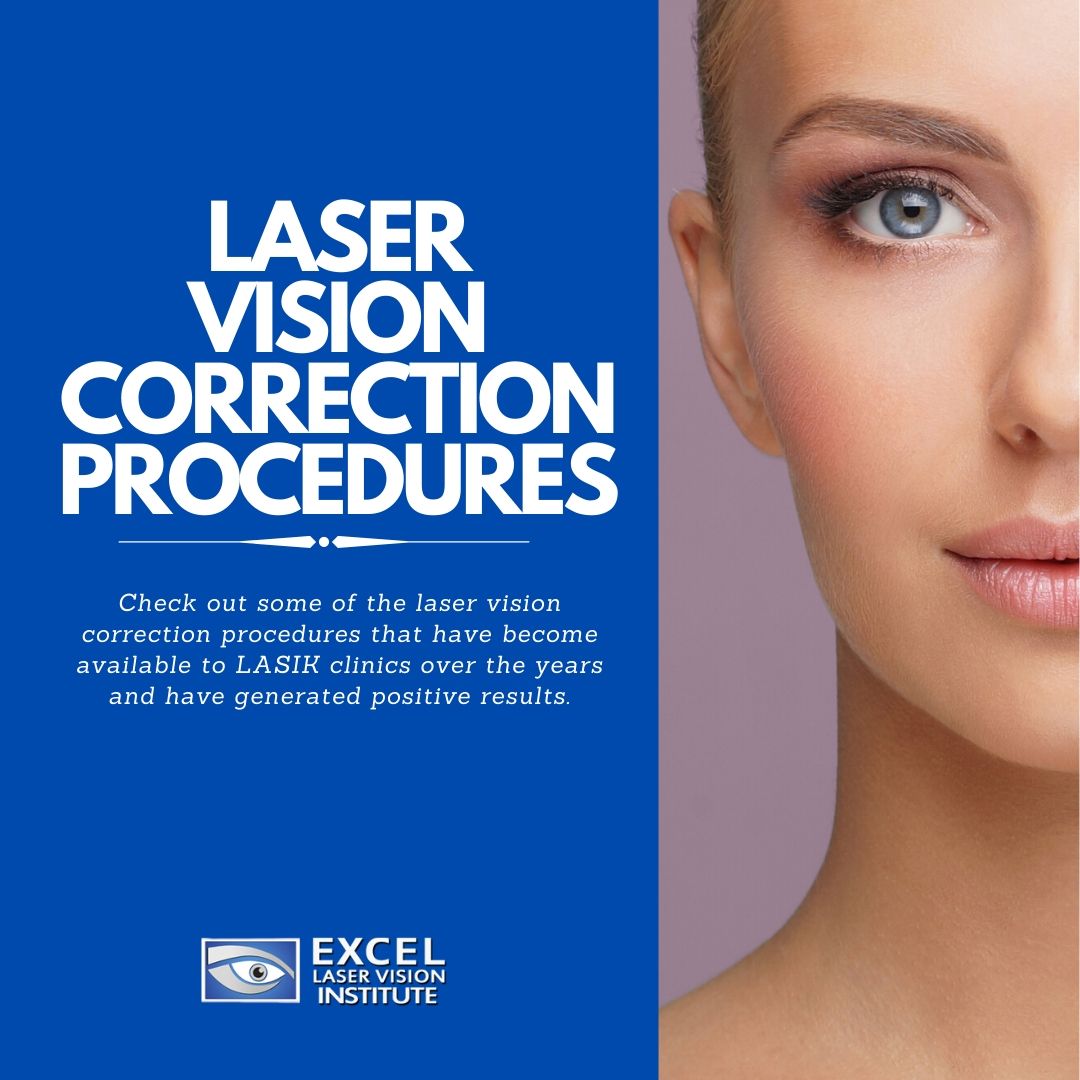 In this article, we will outline some of the laser vision correction procedures that have become available to LASIK clinics over the years and have generated the same positive results.

Laser In Situ Keratomileusis (LASIK)

As a lot of people know, LASIK is a type of refractive surgery that is used to correct vision by manipulating the shape of the cornea. This adjustment allows light to pass through the eye and accurately focus, stimulating better vision.
LASIK surgery is performed by using a femtosecond or microkeratome laser to cut a thin flap in the cornea in order to access the part of the eye that is promoting vision impairment. An excimer laser is then used to remove excess tissue and the corneal flap is replaced. Each eye can take less than 10 minutes. LASIK surgeons will use anesthesia drops to ensure little to no discomfort for the patient during the procedure. Results can be seen in less than 24 hours.
For many years, LASIK eye surgery has been the go-to laser vision correction option. It has been mentioned in over 7,000 peer-reviewed scientific articles that champion its safe and accurate results. In a series of studies that were publicized from 2008 to 2015, researchers reported many statistics that were favorable to the procedure:
98.8% of LASIK patients were pleased with their surgery outcome
99.5% of LASIK patients gained 20/40 vision or better after the surgery
98.6% of LASIK patients measured within 1.0 diopters of their vision goal
90.9% of LASIK patients measured within 0.5 diopters of their vision goal
LASIK Los Angeles surgeons explain that LASIK eye surgery is often recommended for patients that are nearsighted, farsighted, or have astigmatism. LASIK candidates also require a certain corneal width in order to qualify for the surgery.

Photorefractive Keratectomy (PRK)

While not many people have heard of PRK, this eye correction procedure has been used for over 20 years and has proven similar results to LASIK. Researchers find PRK comparable to LASIK in safety and accuracy. However, the differences lie in method and recovery. PRK patients often have a longer recovery period due to the nature of the procedure.

Similar to LASIK, surgeons performing PRK will utilize anesthesia drops to soothe any irritation that might arise from the procedure. The process begins by peeling off the epithelium layer of the cornea and then utilizing an excimer laser to extract excess tissue that is causing vision impairment. After this correction, the surgeon will add a contact lens as protection for the healing eye. LASIK Los Angeles surgeons say that it takes around 5 days for the epithelium to grow back.

Surgeons will often prescribe eye drops for post-surgery care in order to avoid infections, dry eye, and inflammation.

While PRK can require a longer period of adjustment after the surgery, this procedure is sometimes necessary as an alternative to LASIK for patients with certain eye conditions. Patients with thinner corneas, scarring on their cornea, or larger pupils could benefit from PRK when they do not qualify for LASIK surgery. Surgeons will also recommend PRK to candidates who engage in contact sports or maintain a riskier job with the potential for eye injury.

Small Incision Lenticule Extraction (SMILE)

The most recent innovations in laser vision correction have led to widespread acceptance of the SMILE method. In this procedure, surgeons utilize a femtosecond laser to make a half-moon shape of tissue within the cornea. Then, this tissue is removed from an incision by the laser. This process adjusts the shape of the cornea in order to enhance vision while avoiding all other areas of the eye.
Since the opening created by the laser is so microscopic, this procedure is generally thought of as less invasive than other eye correction surgeries. Over 1.5 million SMILE surgeries have been performed around the world and it has been widely used for over 10 years.

SMILE is particularly useful as an alternative to LASIK for patients with nearsighted issues. Studies show that SMILE can achieve the same vision enhancement results for this impairment. Over 400 clinical trials have proven SMILE as an accurate and safe alternative for qualifying candidates. Research statistics have found that:

99% of SMILE patients gained 20/40 vision or better 6 months after the surgery
84% of SMILE patients gained 20/20 vision or better 6 months after the surgery
91.7% of SMILE patients were pleased with their surgery outcome
Like LASIK and PRK, the SMILE procedure can take about 10 minutes or less per eye. This method is particularly recommended for nearsighted patients that want a minimally invasive surgery with a lower risk for complications. Patients that are nearsighted and also have astigmatism may be a good candidate for SMILE as well.

Now that more and more people are seeking laser vision correction, it is important for everyone to understand the options that are available to them. While LASIK is a proven method that is appropriate for many patients, there are other successful procedures that achieve the same results with a slightly different set of tools and techniques. When consulting an eye surgeon, be sure to ask them about PRK and SMILE to see if you are perhaps a better candidate for these alternative eye surgeries. Your surgeon will consider your eye conditions and your lifestyle in their recommendation for your treatment and they will explain in greater detail why they think one method would be better for your individual vision goals.
Related Posts